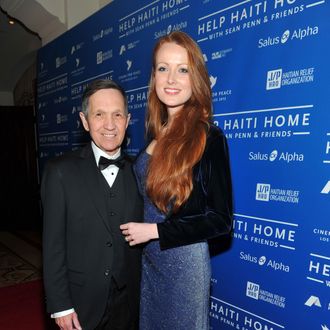 Photo: Alberto E. Rodriguez/Getty Images
Former Ohio Representative Dennis Kucinich has signed a multi-year contract to appear on Fox News as a contributor, the network announced today, reminding everyone that he once saw a UFO and did battle with an olive pit. "I've always been impressed with Rep. Kucinich's fearlessness and thoughtfulness about important issues," said Fox News boss Roger Ailes in a statement. "His willingness to take a stand from his point of view makes him a valuable voice in our country's debate." The two-time presidential long shot added, "Fox News has always provided me with an opportunity to share my perspective with its enormous viewership," in reference to his appearances across the network, from Fox and Friends to The O'Reilly Factor, where Kucinich will debut as an official team member tomorrow.
The career Democrat may have been auditioning last fall, when he joined the Fox News charge against President Obama on Libya and argued, "We still don't know what happened that resulted in the deaths of four Americans."
Back when he was a presidential candidate thirsty for airtime, Kucinich said, "Certainly many Fox viewers are not part of the traditional Democratic base, but they have a right to hear from the Democratic candidates and we as candidates have an obligation to reach out to them." He added, "I know some people object to Fox News, and they take issue with Fox coverage, and the way Fox covers the news. I've taken issue with Fox on many occasions, but I don't hesitate to be questioned by Fox or any of its affiliates." In the Fox News universe, that's maverick-ish. It's also called foresight.