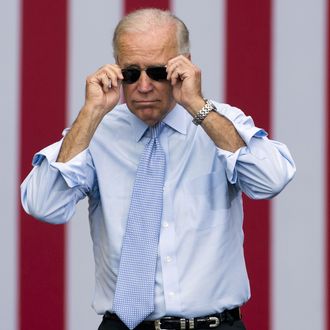 Photo: Saul Loeb/AFP/Getty Images
The White House's Joe Biden-led task force is preparing a "comprehensive" plan for curbing gun violence that will go beyond reinstating expired bans on assault weapons and high-capacity ammunition, reports the Washington Post. Biden's group is said to be considering policies that would "require universal background checks for firearm buyers, track the movement and sale of weapons through a national database, strengthen mental health checks, and stiffen penalties for carrying guns near schools or giving them to minors." Obviously, these ideas are unlikely to go over well with the NRA, and the administration has also been looking for ways to work around the powerful organization.
Possible strategies include asking for support from Wal-Mart and other major gun retailers (who might get a sales boost from the closing of a loophole that allows people to purchase weapons from private sellers without background checks) and introducing measures that do not require congressional approval, such as changes to federal mental health programs and updates to the Bureau of Alcohol, Tobacco, Firearms and Explosives' gun-tracking system. Of course, Congress will still get the chance fight over the issue. Senator Dianne Feinstein is working on a bill that would ban around 120 types of firearms, and she reportedly plans to introduce the legislation later this month.
The task force is still reviewing proposals and has not made any final decisions, but they will likely do so soon. Major County Sheriffs' Association President Richard Stanek, one of the dozens of law enforcement leaders to meet with the vice-president in the wake of the Newtown shooting, told the Post that Biden "indicated that there was a very short timeline for him to get back to the president with his recommendations because the American public has a short memory."
Update: The news is already drawing criticism from at least one lawmaker. In an appearance on ABC's This Week, newly-elected Senator Heidi Heitkamp — a Democrat from North Dakota with an "A" rating from the NRA — called the task force's reported plans "way, way in extreme of what I think is necessary or even should be talked about." She added that she did not believe that the proposed measures would pass, and echoed the NRA's takeaway from Newtown by saying that "we need to have a broad discussion" about mental health care "before we start talking about gun control."