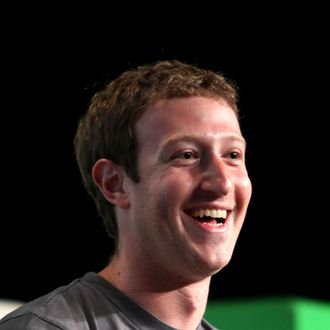 The smartest man in the world.
Photo: Max Morse/Getty Images
Mark Zuckerberg is no dummy. And when he decided a year ago to transform Facebook into a "mobile-first" company, he was seeing ahead of the curve. As Facebook's earnings release this afternoon shows, Facebook now gets more daily active users, or DAU, from mobile devices than from desktop computers.
To put it another way, Facebook is primarily a smartphone app now.
The Wall Street Journal has the story behind the desktop-to-mobile transformation Facebook began in recent months, including how Zuckerberg has gone from having "two dozen" mobile programmers to "hundreds" on any given day. The company's mobile gurus are holding classes for engineers on iOS programming, and it's also experimenting with side projects like Poke, a Snapchat clone.

The numbers out today mean that Zuckerberg was smart to throw major resources into mobile programming as early as he did and spend a billion dollars on Instagram, which was stealing from Facebook's mobile user base. And it also means that the person at Facebook most responsible for the mobile push, vice-president of mobile engineering Cory Ondrejka, is probably due to get a raise.