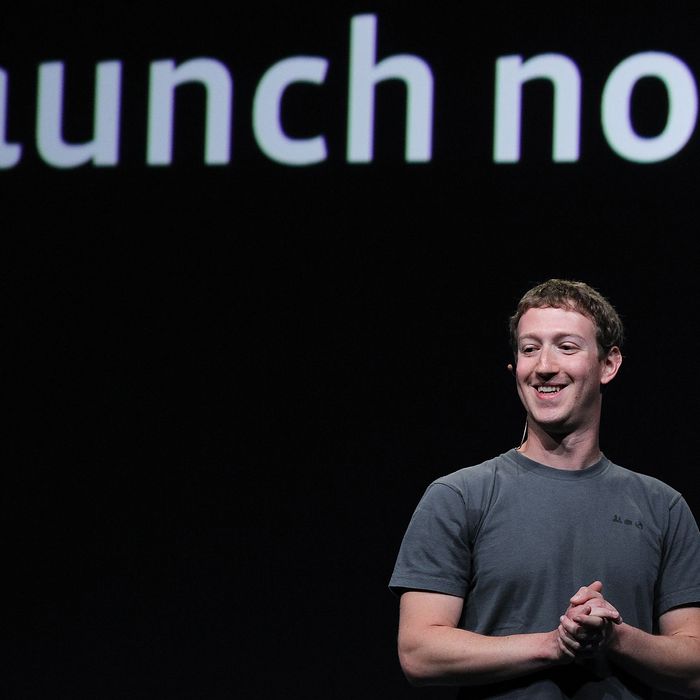 Your new search overlord.
Photo: Justin Sullivan/Getty Images
Nobody knew what Facebook would announce at its top-secret product launch in Menlo Park today. In the press room minutes before the announcement, curious reporters quizzed each other about whether they'd gotten advance briefings by the company's PR team. Was it a Facebook phone? A new speech engine? A Skype-video hybrid chat?
What Mark Zuckerberg actually announced was a new natural-language search feature called "Graph Search," which allows Facebook users to search their friend lists for information about their friends' photos, interests, personal information, and other data. For example, you can type in "Friends who like Nickelback" and see a list of all your musically challenged friends, or "Photos of my friends in my hometown" if you're homesick.
With Graph Search, Zuckerberg is aiming at social networks like LinkedIn, Flickr, MeetUp, and Yelp. In the product demonstration, company executives touted all the ways you can use it: to search for things like "People in Palo Alto who like Game of Thrones," "Photos of Berlin in 1990," and "Indian restaurants my friends from India like." The results update automatically as you type; anything Facebook can't find is outsourced to Bing.
The possibilities seem fairly robust. Corporate HR departments could use Social Graph to find new hires. Online daters will also find it useful. ("Women in Brooklyn who like MGMT" or "Single men who are friends of my friends and work at Goldman Sachs.") You could also just use it to stalk your exes with greater accuracy.
"I think what you've seen today is a different product from anything else that's out there," Zuckerberg said.
Facebook users are clearly concerned about privacy, and the first question at the Q&A was about whether Graph Search will make any previously hidden information public. It won't, strictly speaking — only information that is already viewable on your Facebook account will show up in searches — but users may find that their data is more easily searchable now. If you haven't yet double-checked your Facebook privacy settings, now would be a good time to do so.
Zuckerberg said that Graph Search will be made available to a "very small audience" today, but that all Facebook users will eventually be able to use it. The searches will only be possible on desktop Facebook for now; mobile creepers and Game of Thrones fans will have to wait for a later version.