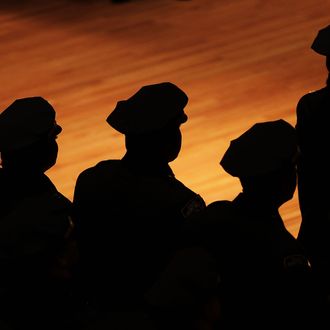 Photo: Spencer Platt/Getty Images2012 Getty Images
The fake cop car with the automatic license plate cover is the most amazing element in a major heroin heist the DEA announced it had averted on Thursday. But perhaps the funniest detail from the New York Post's story about the group of would-be robbers, who were busted posing as police in order to steal a 40-kilogram shipment of heroin, is the paper's own accounting of the gang's mountain of fake police shirts, vests, handcuffs, and other gear: "The haul — which also included six loaded handguns — is believed to be the largest assortment of its kind ever recovered from a robbery crew of fake cops." But there are just so many. Who can keep them all straight?
Really, though, the fake unmarked cop car is the star here. If it's unmarked, wouldn't it just be a plain Ford Crown Victoria, you ask? Well, yes, but it's a very special one: "The Ford Crown Victoria — which also features low-profile flashing lights — has a special button that lets the driver activate a retractable piece of steel to cover its rear plate, a source told The Post." Just like something from James Bond or Inspector Gadget.
The DEA said the gang had "planned to carry out the drug deal rip-off in the woods of Riverdale near the Henry Hudson Parkway," NBC New York reports. But informants inside the organization tipped off the DEA first, who busted the crew. Agents "said the suspects were set to carry out the holdup using a caravan of six cars, guns, ski masks, police t-shirts and a police scanner." Go, go, Gadget subtlety!