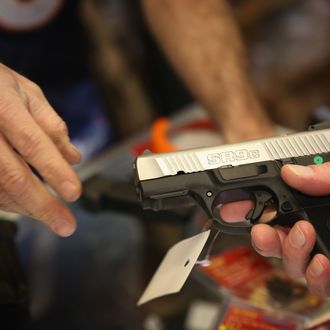 Photo: Scott Olson/2012 Getty Images
FBI data shows it recorded 2.8 million background checks required of gun owners last month, surpassing November's numbers by 2 million checks. The total for all of 2012 stands at 19.6 million; it's not only an annual record but also an increase of 19 percent over 2011, according to Reuters.
The report insists that "the figures do not represent the number of firearms sold," but the holidays do seem like the perfect time to stock up on ammunition. For December 2012, gun checks were up 49 percent over the previous record holder, December 2011 (when the FBI performed 1.9 million checks) and even Reuters writes: "December is typically the busiest month of the year for checks, due in part to Christmas gift sales."
Scariest of all:
"Interest in guns tends to increase after a mass shooting, as customers fear for personal safety or worry that lawmakers might ban certain firearms."
Better show off that semi-automatic soon.