What's being called the worst flu season in ten years is causing problems all around the country: In Boston, where flu cases are already up tenfold over last year, Mayor Thomas Menino has declared a public health emergency. In Allentown, Pennsylvania, one hospital had to set up a large tent outside to house all the extra flu patients. And in Chicago, some emergency rooms stopped taking new patients altogether because they were filled to capacity.
And guess what? It's only going to get worse. Google's Flu Trends, which tracks flu-related searches and serves as a leading indicator of real-life infections, is pretty much all bad news. The map at the top of this post shows that the flu outbreak is "high" or "intense" in every state except Connecticut, for some reason. (Bankers? Let's blame bankers.)
The graph below compares the current volume of flu-related searches to that of the past six years: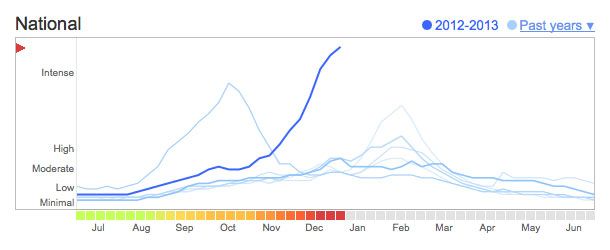 Before you freak out, Matt Damon in Contagion style, and lock up your loved ones until spring, note that you can get a flu shot pretty much anywhere these days.