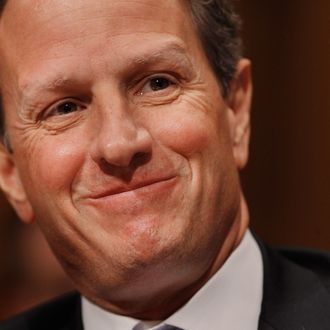 Photo: Chip Somodevilla/Getty Images
Smirking giggler Tim Geithner has had enough, for real this time. Bloomberg reports that the Treasury secretary is leaving his job at the end of the month, regardless of whether President Obama and the Republican opposition have once again struck a deal to raise the debt ceiling. Last time the government did this difficult dance, Geithner attempted to bail afterward, only to eventually agree to sticking around through the election.
Geithner said late last year that Obama would "have a successor in place so I'll be able to go off and do some other things," which probably pay better and are less stressful.
White House Chief of Staff Jack Lew is the current favorite to replace Geithner. A managing director for Citigroup for just over two years, Lew's lack of financial experience could leave him paired with a Wall Street exec as a deputy secretary, according to Bloomberg. Knowing this day was imminent, Obama left Lew out of the fiscal cliff fight, Politico reported yesterday:
The president asked Geithner, rather than White House chief of staff Jack Lew, to serve as his chief negotiator. The move pleased Republicans who hadn't liked Lew's negotiating style during the 2011 debt limit talks. But that wasn't the main reason Lew was kept out of the spotlight: As a top choice to replace Geithner at Treasury, Obama was "saving him," reluctant to embroil him in tense negotiations if he needs the Senate to approve his nomination.
Hopefully Lew is enjoying the relative peace and quiet while it lasts.