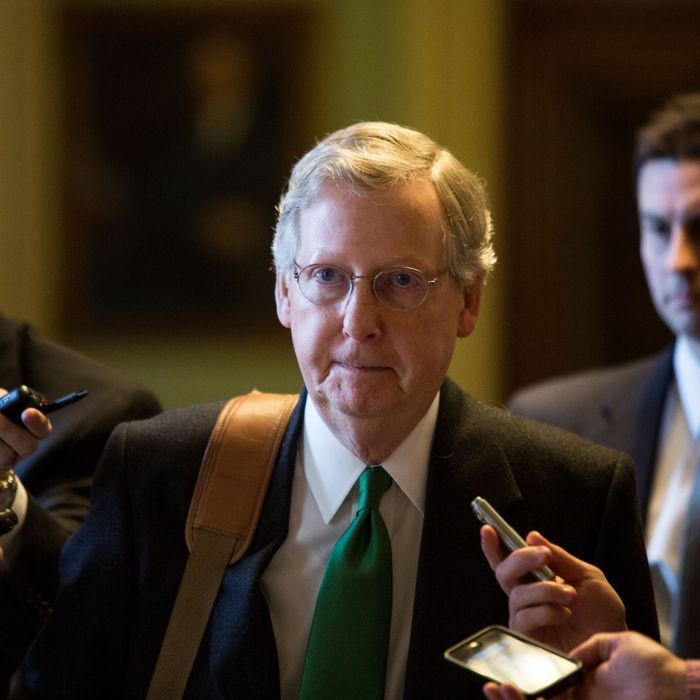 Can't talk. Walking.
Photo: Drew Angerer/Getty Images
In the coming weeks, while working on a new debt ceiling and sequester agreement, the Senate will also be asked to consider the recommendations of the Biden-led gun-control commission as well as confirm a string of new appointments to Obama's cabinet, including Republican iconoclast Chuck Hagel. These are not necessarily things the GOP wants to do, and the self-deprecating excuse it has come up with for not doing them is that the World's Greatest Deliberative Body — composed, as it is, of 100 senators, dozens of distinct committees and subcommittees, and countless aides and advisers — is incapable of handling multiple things at once. Just ask Mississippi senator Roger Wicker, who announced in a statement today that he opposes Chuck Hagel's nomination as Defense secretary because the Senate does not unanimously support him and would therefore have to actually, you know, spend some time on his confirmation:
"I am strongly opposed to the President's nomination of Sen. Hagel. It would be divisive and distracting for Congress, the Administration, and the American people … The President is choosing a fight rather than nominating a consensus pick. With sequestration's defense cuts averted for only two months, this will take attention away from very pressing problems.  Sec. Panetta was approved unanimously by the Senate.  The President would be wise to nominate someone else for this critical position."
GOP Senate leader Mitch McConnell agrees that dealing with anything beyond the spending fight would just be too burdensome:
Senate Minority Leader Mitch McConnell (R-KY) said Sunday that despite the White House's push to quickly enact a new round of gun laws, tackling spending and debt will be the top priority for the next three months.

"Clearly, we will not be addressing that issue early because spending and debt are gonna dominate the first three months," McConnell said on CBS' "Face the Nation."
We're likely going to hit the debt ceiling between February 15 and March 1, and the sequester was only delayed until March 1. Both dates are less than two months from now. Apparently "tackling spending and debt" is not only all the GOP can manage at one time, but it also requires a month or more of recuperation.