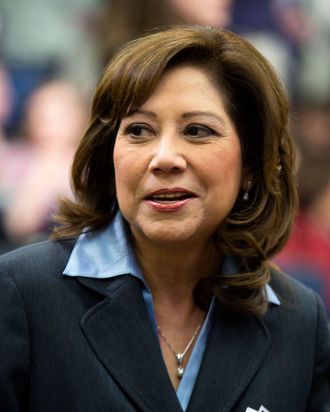 Secretary of Labor Hilda Solis arrives prior to U.S. President Barack Obama's address the White House Forum on "Women and the Economy" in the Eisenhower Executive Office Building on April 6 2012 in Washington, DC. Obama highlighted ways the Administration has helped create economic security for women and recognized that women are key to economic growth and competitiveness.
Photo: Joshua Roberts/Getty Images
The Cabinet shuffle continues: Four-year Obama administration veteran Hilda Solis is stepping down as Labor secretary, she announced today. It's unknown who President Obama may nominate to replace her, but whoever it is, the GOP will probably complain a lot.