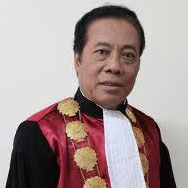 Judge/comedian Daming Sanusi.
An Indonesian judge vying for a spot on the Supreme Court managed the impossible on Monday: He made a rape remark so bad, it made the GOP look like NOW. CNN reports:
>
[Daming Sanusi] made the comments Monday in front of a parliamentary commission hearing to determine if he was a fit for the top court, according to the official Indonesian news agency Antara.

In response to a question about whether the death penalty should be applied in rape cases, Daming reportedly said, "Consideration needs to be taken thoroughly for the imposition of death penalty for a rapist because in a rape case both the rapist and the victim enjoy it."
A person actually said that, out loud. Not just a person, but a judge. Not just a judge, but a judge seeking a promotion. So … let's hear it, Judge Daming: Why, for the love of God, did you say that?
After the test, Daming told reporters that his remarks were made to break the ice. "I saw we [Supreme Court justice candidates] were too tense. [I made the remarks] to ease the tension. We had a brief laugh," he said.