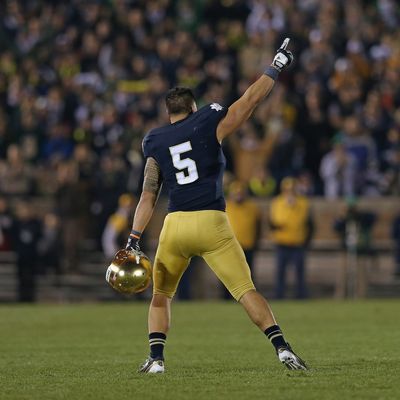 She's not up there, man.
Photo: Jonathan Daniel/Getty Images
College football fans spent the season hearing in extensive detail the heartwarming tale of Manti Te'o, a heroic Notre Dame linebacker who lost his girlfriend to cancer and whose life and death inspired his gridiron exploits. Deadspin has an unbelievable report that the girlfriend is a hoax — she never existed, in any form. She was created either as part of a publicity stunt or, as Te'o claims and Notre Dame maintains, by hoaxsters duping Te'o. (The latter scenario, requiring the concoction of a full-blown relationship with a nonexistent woman, would be, to say the least, extremely hard to pull off.)
The story is utterly shocking, unless you're familiar with the history of the mythology of Notre Dame football.
Fake, schmaltzy inspirational tales are the essence of the culture of the program. The inspirational story of Knute Rockne and his dying player, George Gipp, became a famous movie that helped enshrine Notre Dame football in the culture. In reality, Rockne was an ethically dubious sports gambler, Gipp a pool hustler, and the main events of the story — Gipp's dying wish to "win one for the Gipper," Rockne's inspirational halftime speech — never happened.
Likewise, Rudy is the inspirational story of a walk-on who overcame the odds to play football at Notre Dame, but the story is also filled with falsehoods. Rudy, by the way, turned out to be a stock scammer.
Te'o finished a close second in the Heisman Trophy balloting — an amazing feat for a defensive player, especially one who, like Te'o, is good but not dominant. Notre Dame is exceptional at mythmaking. A new coach who ekes out a decent first season is almost automatically the subject of a hagiographic biography, like Return to Glory (Tyrone Willingham) or The New Gold Standard (Charlie Weis). I should confess my bias as the die-hard fan of a rival team, but the pattern of runaway media hype, and the constant demand for more feel-good stories, is unmistakable.
If Te'o's dying girlfriend story had been invented 80 years ago, it would have been memorialized in film and people would still believe it today.