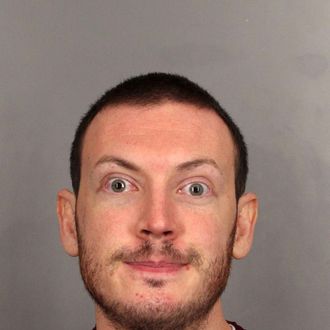 James Holmes.
Photo: Arapahoe County/Splash News
The preliminary hearing to determine if alleged theater gunman James Holmes will stand trial wrapped up today with the prosecution showing photos Holmes took on his iPhone in the weeks before the shooting. Holmes cased the theater at least three times, snapping photos of the interior and the rear of the building, where he was arrested. "He knew what he was doing," said prosecutor Karen Pearson. He also took a series of disturbing self-portraits hours before the shooting. In the pictures, Holmes wears black contacts, smiles, and sticks out his tongue while holding a handgun, an assault rifle and homemade bomb. Another shot shows his weapons and body armor neatly arranged on his bed.
While Holmes appeared detached during the last two days of testimony, Caren Teves, whose 24-year-old son Alex Teves died in the shooting, says he was "absolutely smirking" as the photos were shown. "When he sees himself, he gets very excited and his eyes crinkle,"she said. "Your eyes are the window to the soul and you could see that he was very delighted in seeing himself in that manner."
The defense had planned to call witnesses to discuss Holmes's mental state, but said today that it would be pointless. "This is neither the proper venue nor the time for us to put on a show or present some truncated defense," said public defender Daniel King. Holmes's attorneys described their client as mentally ill several times during the hearing, and are expected to seek an insanity defense if they can't secure a plea deal. The judge said he'll rule on whether the case can move forward on Friday.