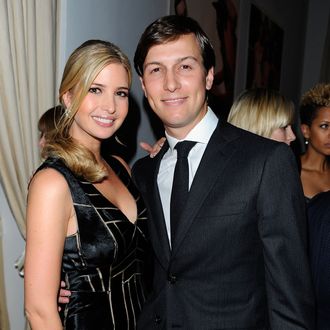 Trump and Kushner.
Photo: Andrew H. Walker/Getty Images
Jared Kushner, owner of this town's arguably important pinkish weekly, has picked a CEO for his Observer Media Group to go along with new editor Ken Kurson. Whereas Kurson is a longtime family friend and Rudy Giuliani associate, Joseph Meyer comes from the company's board and has his own tight ties. In addition to a history at hedge funds (Paul Singer's Elliott Management, Michael Dell's MSD Capital), Meyer "is a trusted member of my family," according to a memo sent to staff by Ivanka Trump's husband today. As noted by The Wall Street Journal, "He is married to Mr. Kushner's sister, Nicole."
"He has a really roll-up-your-sleeves and get-your-hands-dirty approach," Kushner told the Journal, which will presumably go along with Kurson's vision for the paper. Once a fashionable literary accessory for the Manhattan power elite and their oxpeckers, the new editor said he wants his product to appeal to "first responders on Staten Island" and "second generation New Yorkers in Forest Hills," Capital New York reported when Kurson took over.
Kushner's full memo on Meyer is below:
Dear Observer Media Group,

We have grown into a true multi-media company that combines the voice and influence of The New York Observer with unique properties that serve passionate, targeted audiences like BetaBeat, PolitickerNJ, Gallerist, Commercial Observer, Commercial Mortgage Observer, Vegas Seven and VeryShortList. By being creative over the past 6 years, we have built a unique and successful business that funds and produces great journalism.

2013 got off to a great start with Ken coming on board and the next few years will provide us with even more opportunities to expand our strategy and further our reach. That is why I could not be more excited to announce that Joseph Meyer, one of our board members, is joining the company full-time as CEO to help take us to the next level.

Joseph will oversee business operations and will focus on making investments and exploring acquisitions. He brings years of experience identifying growth opportunities and will help the Observer Media Group expand in the areas it already serves and bring its fresh voice to entirely new markets.

Prior to joining the Observer, he worked at Elliott Management, one of the most prestigious hedge funds in the world and MSD Capital, Michael Dell's family's investment firm, where he focused on investments across industries including media, telecom, healthcare and finance. He earned an MBA from Harvard Business School, a Bachelor of Science from Yeshiva University and is a trusted member of my family.

As Chairman, I have now added 3 top executives to this business in the past 3 months. Between Ken, Mike and now Joseph, the Observer Media Group has the deepest pool of talent leading this company that it has ever had. I have had a lot of fun working with all three of them to date and am very excited for what lies ahead.

Despite the serious challenges faced by our industry, we have found creative ways to grow and thrive. We will continue to invest smartly in our strong verticals while we look for strategic growth acquisitions.

I look forward to all of you getting to know Joseph as he will be in the office tomorrow.

Yours,

Jared

Chairman and Publisher, Observer Media Group