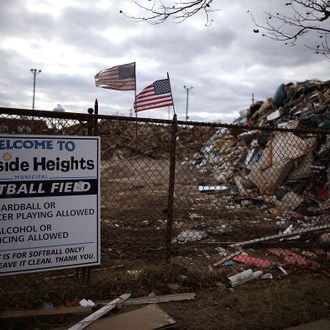 Some towns on the barrier islands along the Jersey Shore still haven't let people move back in after Hurricane Sandy, others have only just opened to residents who want to visit their homes, and many still have curfews in place, giving the area a distinct feeling of authoritarian rule. Seaside Heights, for example, just changed its curfew from 4 p.m. to 10 p.m., and Sea Bright is still under a state of emergency, with a 5 p.m. curfew. The New York Times reports from towns along Route 35, where fears of looting and public safety concerns have led to a level of police enforcement just a degree or two more relaxed than martial law.
Though the National Guard pulled up their checkpoints along the barrier island last week, after more than two months of restricting access to its communities, the State Police sent more troopers in, and their cars idle along Route 35 to question anyone who stops. Only residents and contractors are allowed on side streets. Residents who go out between 6 p.m. and 5 a.m. have to drive, not walk. And the police have set up machines to take pictures of the license plate of every car that travels along Route 35.
Naturally, this has gotten very annoying for those who live there, The Times reports. One resident "has taken to carrying her lease in her pocketbook to avoid problems at checkpoints: 'You don't want to make waves.'" The area's new normal makes residents' early November pleas to return to normalcy seem downright quaint.