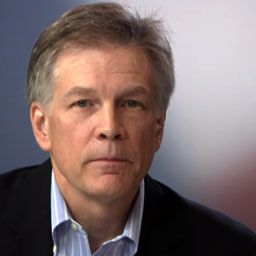 Among the big-name exits at the New York Times in this round of buyouts, none was mourned more online than that of assistant managing editor Jim Roberts, or @nytjim as he's known to the world. While other departures in management — sports editor Joe Sexton, managing editor John Geddes, culture editor Jonathan Landman — received the usual public respect reserved for those toiling behind the scenes from colleagues and industry admirers, Roberts had made himself a public figure, tweeting prodigiously to his nearly 77,000 followers about the day's news from all outlets. As a 26-year veteran at the Times, he worked as both an old-school newspaperman and a digital pioneer at a paper working to find the right balance between the two. Fittingly, we caught up with Roberts about his big decision via e-mail.
When the need for buyouts was announced at the end of 2011, did you know it was your time to go? What was the decision process like for you personally?
I'd been thinking since the waning days of the presidential campaign that the election itself would be a sensible transition point for me. So that when the buyouts were formally offered, my mind was already thinking about looking for other opportunities. Still, the decision wasn't easy. I've put a lot of my soul into the New York Times, and you don't easily walk away from that emotional investment.
Comings and goings in this industry are not rare, especially in this era, but at the Times, it's a lot of top editors, with a lot of years between them, all at once. Still, are you surprised by the way people elsewhere in the media, and especially online, track and watch the changes at the Times? Where do you think the keen interest and fascination comes from?
I'm not surprised. The Times has been and always will be a source of fascination for readers. We're good at what we do — not perfect, mind you — but we deliver a quality of information and thought that is hard to match. Average people and world leaders pay attention to it daily, to the subjects the Times chooses to cover and the way those subjects are presented. It's only natural that the fascination people have for the news product would evoke a fascination with the people who make those decisions.
Time was when a newspaper editor was something of a mythic, unknowable figure and most readers couldn't name the people behind the scenes. That might still be true today, but the ones who know and understand the masthead have a louder voice online, and you're out there interacting with the public every day. As a veteran of a previous era and an active player in this one, were you surprised by the outpouring in response to your exit announcement?
I was enormously surprised and gratified by the response. I received truly sweet and heartwarming messages from friends, colleagues, and scores of people I don't know. More than a few thought that I was disappearing altogether. I've tried to reassure them all that while I'm leaving the Times, Twitter still has me.
You're credited with helping usher this gigantic legacy institution operation into the digital future. What would you like to be your legacy at the paper?
You put it well. I HELPED the Times find its digital footing. But I was in no way alone. There were plenty of true pioneers before me, in the years from 1995 to 2005, who truly laid the foundation of the Times' digital future.
I would like to think that I helped people there see the potential of social media and social journalism. And how you could reach an audience through a different medium and talk with them in a more personal but still responsible fashion — AND do it with a bit of personality. But I wasn't alone there, either.
Most important, have you decided on a new Twitter handle?
Still working on it. Although @nytjim was chosen rather casually in the early days of Twitter, I realize this is a huge decision. I'm thinking carefully. Suggestions welcome.