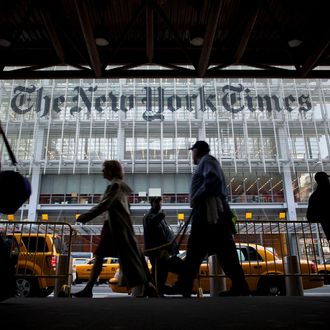 Photo: Michael Nagle/Bloomberg via Getty Images
The deadline for members of the New York Times newsroom to accept a voluntary buyout hits this evening at 5 p.m., and another is taking advantage. Sports editor Joe Sexton will leave the paper for ProPublica, the Huffington Post first reported. The nonprofit investigative site confirmed this morning that Sexton, a Pulitzer Prize winner (and the guy behind this), will come on as a senior editor. "I've received a great offer; I leave you and the nyt burdened only by a great debt — of thanks and wonder," Sexton wrote in a memo to Times staff.
He joins top Times names like managing editor John Geddes, culture editor Jonathan Landman, and classical music critic James Oestreich in the buyout club. But even with those departures, the paper could come up short of the 30 newsroom positions it needs to eliminate. As reported by our own Joe Hagan, there's been some "begging and pleading" as the Paper of Record attempts to ease the bloat at the top of its masthead.
"Living with the uncertainty that this kind of process inevitably creates has been painful for us all," executive editor Jill Abramson said in a memo to staff last night. "We will know a day or two after that whether or not we will have to go to layoffs in order to reach the savings we need. We'll need some time to figure out which buyout requests we can accept." It's safe to say no one is expecting Donald Trump to save the day.
Update: Head of news operations Terry Schwardon is also taking a buyout, the New York Observer reports, while veteran assistant managing editor Jim Roberts (floated by Hagan as a potential buyout) has announced on Twitter that he's leaving.
"After 26 years at the New York Times, it's time for @nytjim to move on and find a new handle," he wrote. "I've been so privileged to work with true giants of journalism - fearless correspondents, wise analysts & masters of visual expression. I'm particularly grateful to my digital friends, who've schooled me in potential of multimedia, interactive, mobile & social journalism. It's been a long awesome trip. Another will follow. Stay tuned."