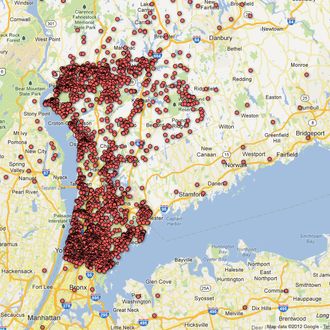 The Journal News wants to make one thing clear in its removal of the controversial map of handgun permit holders in Westchester and Rockland counties: This is not about the criticism, death threats, or lawmakers' bullyragging the map has brought on. Publisher Janet Hasson said it was taking the map down voluntarily as a nod to New York State's new gun laws, which included a provision allowing for gun owners to keep their information private, in reaction to the map. "While the new law does not require us to remove the data, we believe that doing so complies with its spirit," Hasson said on Friday in a statement to media. But in a letter to readers on the paper's website, announcing the decision to take down the map, Hasson sounded much more conflicted about the decision.
"The database has been public for 27 days and we believe those who wanted to view it have done so already. As well, with the passage of time, the data will become outdated and inaccurate," she wrote. She then went on to make it clear the Journal News was not at all happy about the new law:
As a news organization, we are constantly defending the public's right to know. Consequently we do not endorse the way the legislature has chosen to limit public access to gun permit data. The statute is very broad and allows anyone who meets certain criteria within qualifying categories to keep their permit information private. When the moratorium concludes, far fewer permit holders will be identifiable, and those who want to know which houses on their block may have guns will not be able to get that information.
But the gun map is not totally dead. Even though it's inactive, a zoomed-out version still illustrates the Journal News's original post-Newtown story on gun ownership in the lower Hudson Valley. And Hasson insists the paper will continue to press Putnam County for information on its gun owners, which the county refused to provide even when it was required to do so by law. For whatever problems the map brought on, it also brought the paper 1.2 million clicks, which is a pretty shiny silver lining to all that unpleasantness.