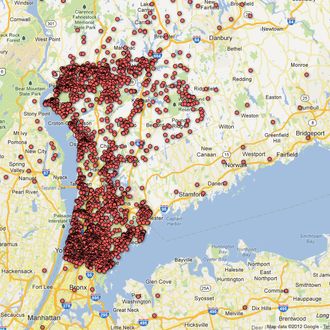 The debate over whether The Journal News put people in danger by publishing the names and addresses of gun permit holders in Westchester and Rockland counties may not be theoretical any longer. On Saturday, at least two burglars broke into the White Plains home of a man who appeared on the paper's online map and attempted to break into the safe where he stores his guns, according to Newsday. The thieves used a ladder to enter a second story window while the victim, a man in his 70s, wasn't home. They were unable to open the safe and one of the men was taken into custody.
Police are still investigating why the home was targeted, but New York State Senator Greg Ball isn't waiting for all the details to come in. On Sunday Ball's office said in a statement, "It is reported that the burglar used The Journal News' interactive gun map to target a home included on the map," though as Buzzfeed notes, the connection has yet to be confirmed by any news organization.
On Monday, Ball plans to introduce three pieces of legislation that will make gun permit information available only to law enforcement agencies. Ball says the "elitist eggheads" at the Journal News who "use their editorial page to coddle terrorists and criminals" have now put gun owners' lives at risk "by creating a virtual shopping list for criminals and nut jobs." He continued:
If the connection is proven, this is further proof that these maps are not only an invasion of privacy but that they present a clear and present danger to law-abiding, private citizens. Former convicts have already testified to the usefulness of the asinine Journal News 'gun maps' yet the reckless editors are evidently willing to roll the dice, gambling with the lives of innocent local homeowners.
When Putnam County Clerk Dennis Sant refused the paper's request for information on gun owners in his county, he argued that publishing the information "tells criminals who doesn't have a gun," and "gives a burglar or it gives a thief a map." It's unclear if criminals are using the map as a way to obtain firearms illegally or a guide to the homes where they're least likely to get shot (or ignoring it entirely), but for now everyone in Westchester and Rockland counties can worry that their home is a target. Somehow, we doubt that will lead to a more rational and informed debate on gun violence.