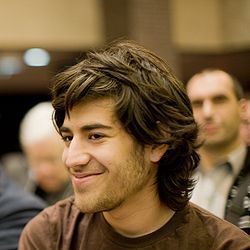 Aaron Swartz, the 26-year-old programmer, internet activist, and co-founder of Reddit, killed himself on Friday in New York. The news, first reported by MIT's The Tech, was confirmed in a statement from Swartz's lawyer and later by his mother, who wrote, "Thank you all for your kind words and thoughts. Aaron has been depressed about his case/upcoming trial, but we had no idea what he was going through was this painful."
In July 2011, Swartz was indicted for downloading 4.8 million documents from online academic journal library JSTOR, which he apparently intended to distribute for free via peer-to-peer file-sharing sites. As a Harvard researcher at the time, Swartz had legal access to JSTOR's files, but it was his plan to give them away — and the fact that he broke into the networks of nearby MIT to pull the materials — that got him into trouble. In September 2012, he returned to court to plead not guilty to charges of wire fraud, computer fraud, unlawfully obtaining information from a protected computer, and recklessly damaging a protected computer. (He was facing 35 years in prison and a $1 million fine.) Just this week, JSTOR (which never pursued charges against Swartz) began offering limited free access to its materials.
Swartz was a well-known and longtime advocate for the idea of free and open access to information on the Internet. At 14-years-old, he co-authored an early version of RSS. Later, he helped to build Reddit. In the words of his friend, Boing Boing's Cory Doctorow, after the site was purchased by Conde Nast in 2006, Swartz "engineered his own dismissal and got cashed out, and then became a full-time, uncompromising, reckless and delightful shit-disturber."
In 2009, he drew some negative attention from the government for using a free trial of Pacer, an online database of court records, to download 20 million documents. No charges were filed, but the program was suspended pending an FBI investigation. Swartz had been living in Brooklyn, where he was working for the Avaaz Foundation, a nonprofit "global web movement to bring people-powered politics to decision-making everywhere." In 2010, he founded Demand Progress, a campaign against Internet censorship bills like the since-defeated  SOPA and PIPA. (That group's executive director had written that the JSTOR-related charges against Swartz were "like trying to put someone in jail for allegedly checking too many books out of the library.") 
This morning, Creative Commons founder and Swartz's mentor Lawrence Lessig took to his blog to tell people, "Please don't pathologize this story." He went on to voice the opinion of many activists and Swartz-sympathizers by accusing the federal government of treating Swartz's actions with "inappropriate" harshness:
Here is where we need a better sense of justice, and shame. For the outrageousness in this story is not just Aaron. It is also the absurdity of the prosecutor's behavior. From the beginning, the government worked as hard as it could to characterize what Aaron did in the most extreme and absurd way. The "property" Aaron had "stolen," we were told, was worth "millions of dollars" — with the hint, and then the suggestion, that his aim must have been to profit from his crime. But anyone who says that there is money to be made in a stash of ACADEMIC ARTICLES is either an idiot or a liar. It was clear what this was not, yet our government continued to push as if it had caught the 9/11 terrorists red-handed.
Some have suggested that the ongoing legal negotiations and threat of jail time are what drove Swartz to kill himself. Either way, Swartz often wrote about bouts of depression on his personal blog, and Doctorow confirmed that mental illness had been a reoccurring issue for the "brilliant, magnificently weird" young man who "had more work to do, and who made the world a better place when he did it."