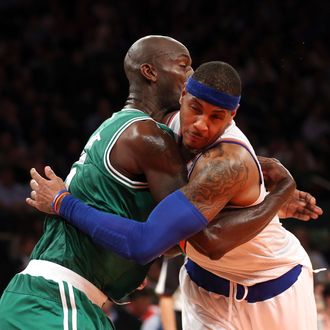 See, they're hugging it out.
Photo: Bruce Bennett/Getty Images
Tonight, the Knicks will face the Celtics, in Boston, for the first time since the curious incident of the Honey Nut Cheerio in the nighttime. Carmelo Anthony, who has decided to start eating food before games again and therefore might not be as angry this time, will get to face Kevin Garnett again, and it'd be pretty hilarious if after the game, Garnett were waiting by the Knicks team bus, but not mad, just saying, "Hi, guys, checking out the brake fluid. Hey, why's everybody looking at me like that?"
One would think Garnett, who will be in the starting lineup of the All-Star Game right next to his old buddy Carmelo, would slow his roll a little bit tonight, if just because it would almost be a Garnett cliché for him to do something over-the-top tonight. Then again: This is Kevin Garnett. He is long gone.
The best thing about Garnett's bizarre Honey Nut Cheerio insult is that it doesn't make any sense; it's so oddly specific that it could only sort of come from the brain of an intelligent person who is generally detached from the experience of being a human … a sort of monkish sociopath. But that's Garnett. Harvey Araton at the Times has a good career recap piece this morning, in which he brings up some of Garnett's sharper, almost kind moments, before admitting that, hey, he might do something insane for some reason, he's Garnett, you never know. He's like a ninja Bill Laimbeer. (Who, we remind you, is currently the head coach of the WNBA's New York Liberty. Somehow we don't see that career path for Garnett.)
The saddest thing about Garnett is that almost everyone in the NBA has always wanted to love him. He was beloved in Minnesota, and cheered for escaping and winning his first title with Boston … and then he just went crazy. Countless players, from Joakim Noah to Amar'e Stoudemire, have talked about growing up revering Garnett, only to learn just how horrible of a person he was once they made it to the league. A few years ago, Noah gave a telling interview to a Chicago radio station about Garnett.
"He's only mean to the rookies and Euros." Yeah, Garnett is just a bully, a crazy one, one that you like if he's on your team … until, ultimately, you don't. Kevin Garnett is one of the most important players in the last 25 years of the NBA, but he has become angrier, weirder, and more isolated as his career has gone on. We're not sure what will happen with Carmelo and KG tonight. Maybe nothing. But Garnett has become Public Enemy No. 1 in the NBA, not just for the Knicks, but for everyone. Maybe it helps his team win, though that's certainly up for debate. But it has evolved to the point that it seems less about "team" and "spirited competition," and more about the lunatic in green everyone tries to avoid. Maybe that's the legacy Garnett wanted for himself all along. But we doubt it.