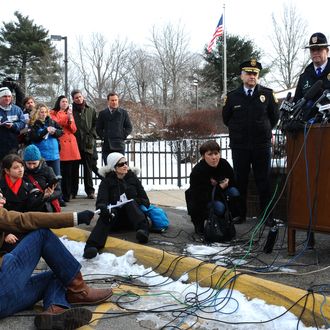 Photo: Jessica Hill/Corbis
After the shooting in Newtown, Connecticut, last month killed twenty students and six teachers, the children from Sandy Hook Elementary (all between kindergarten and fourth grade) have returned to class at the former Chalk Hill middle school yesterday. The New York Post reports that workers spent the weeks since December 14 painting and renovating Chalk Hill, a school that had sat unused since 2010.
In an attempt to make kids feel at home, the nearly 80-person staff brought in the student's original desks, chairs, cubbies, and pictures. Because Chalk Hill was originally built as a middle school, floors also had to be lifted so the younger kids could reach the toilet. They even brought principal Donna Page out of retirement to head the new school.
According to Monroe police Lieutenant Keith White, police from his town and those surrounding will be at the school for the foreseeable future. Chalk Hill will continue to be monitored by video cameras as well as the "numerous security devices" installed at the new school. He said:
"Obviously, we don't want to overburden them with the police. We want this to be a normal school where they can go and enjoy themselves throughout the day. Right now, this has to be the safest school in America."
Newtown schools superintendent Janet Robinson said of the work: "Chalk Hill has been transformed from a middle school to a very cheerful, nurturing elementary school," adding, "The students coming in completes a circle."