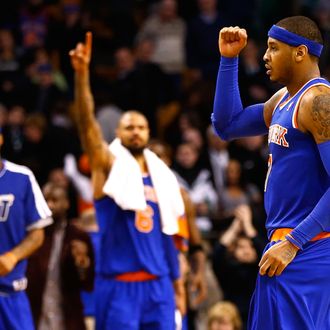 Happy Knicks.
Photo: Jared Wickerham/Getty Images
The most enjoyable part of watching the Knicks'$2 89–86 win over the Celtics in Boston last night was not the actual victory itself; Paul Pierce and the Celtics have ripped the Knicks' hearts out so many times in the last seven years that even when victory seemed secure, you couldn't feel safe. No, it was when TNT showed the last time the Knicks had won a game in Boston: November 24, 2006. The video showed Stephon Marbury feeding Eddy Curry underneath, Steve Francis putting up a three-pointer, Isiah Thomas clapping from the sideline. Commentator Steve Kerr said, "that feels like it's from a different generation." The Knicks can be frustrating, and they still have a lot of work to do. But just seeing Curry, and Marbury, and Isiah was a reminder of just how far the Knicks have come. The Knicks don't make their fans want to stab themselves in the face anymore. This is considerable progress.
Yes, the Knicks' win last night was particularly satisfying, not just because of this GIF of Knicks Slayer Paul Pierce, but also because Carmelo Anthony not only didn't try to murder Kevin Garnett, he actually played the best he has against the Celtics in a while. He scored 28 points and grabbed nine rebounds, including a pretty third quarter in which he was essentially doing whatever he wanted. The Knicks' offense was generally terrible —  J.R. Smith had one of those Other Starks games, going 3-for-16 from the field — but the Celtics' offense was even worse. Those guys have two guys who can score, tops. The Celtics are now two games under .500 and reeling, which means of course they're going to rebound just in time to get the seventh seed and play the Knicks in the first round of the playoffs.
The other subplot was the ongoing transition of Amar'e Stoudemire into a functional member of the Knicks, and while the team still generally looked better when he wasn't playing, particularly in the third quarter, there are still some signs that he won't be a black hole on and off the court for the next three seasons. He's starting to work better with Carmelo on offense; Anthony is actively looking for him, and Stoudemire is actively looking to attack. It doesn't always work, but there's at least something happening, which is an improvement. On defense, he's still lost, but last night Mike Woodson was playing a zone, which helps disguise Stoudemire's shortcomings considerably; you can expect to see that more going forward.
It was a happy day in the land of Knicks: They beat the Celtics in Boston for the first time in 6 1/2 years, and Tyson Chandler was named to his first-ever All-Star team. (No J.R. Smith, though, which is reasonable. Speaking of snubs, no Brook Lopez from the Nets, which is not reasonable.) They're a full game up on the Nets in the Atlantic Division now, and there were no Kevin Garnett tussles. (Supposedly, Celtics ushers were removing any signs referring to Honey Nut Cheerios. Now, there's a sentence that would have made no sense one month ago.) The Knicks still have a long way to go, and still need to get healthy, but honestly: After being reminded of the Marbury-Curry-Isiah days, everything this morning is freaking sunshine.