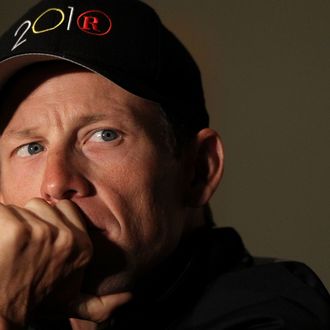 Photo: Doug Pensinger/Getty Images
Disgraced former seven-time Tour de France winner Lance Armstrong has reportedly spoken to U.S. Anti-Doping Agency officials about confessing publicly to using illicit performance-enhancing drugs. (Among them: "butter.") Though he's denied the accusations for well over a decade, Armstrong is apparently seeking to have his lifetime ban from cycling lifted so he can go back to competing, even if his ambitions are considerably lowered to triathlons and smaller-profile races. While the ADA (and the World Anti-Doping Agency) have been known to grant leniency to fallen athletes who've admitted their sins, the former Cycling King has a few other obstacles standing in the way of a return.
The New York Times reports: "What worries Armstrong and his lawyers most, two of the people with knowledge of the situation said, is that he could face charges of perjury if he confesses" because he denied doping during sworn court testimony. Then there are various pending lawsuits, including one accusing Armstrong of defrauding the government (the U.S. Postal Service was his team's primary sponsor) by masterminding an organized doping operation for the entire team.
Even if Armstrong does ultimately get himself back in the game, it's hard to imagine him ever regaining the zealous fan base he once had — or the lucrative multimillion-dollar Nike sponsorship deals that made him rich. Then again, the public loves a celebrity atonement tour. As the Wall Street Journal notes, Armstrong's "options include going on television, writing a book or making a public statement of some sort in the near future." Whatever shape Armstrong's apology takes, we're sure it'll come with a nice fee attached.