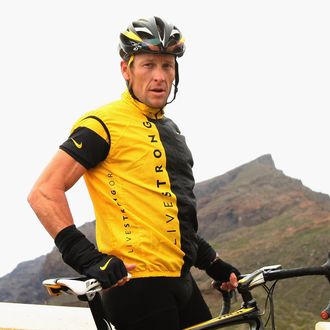 Photo: Bryn Lennon/2008 Getty Images
After vehemently denying charges that he participated in what the U.S. Anti-Doping Agency called the "most sophisticated doping program on the planet," on Monday Lance Armstrong confessed to doping in an interview with Oprah Winfrey, according to the Associated Press. Earlier in the day, Armstrong had a teary meeting with about 100 staffers of the Livestrong Foundation, the cancer charity he founded. Armstrong reportedly apologized in a speech a Livestrong spokesperson described as "heartfelt and sincere," but sources say he saved the doping admission for Oprah. Afterward she Tweeted, "Just wrapped with @lancearmstrong More than 2 1/2 hours. He came READY!"
Armstrong's interview will air Thursday night on OWN, but in the meantime more details are emerging about why he finally decided to come clean after nearly fifteen years of denials. Sources say he wants the USADA to lift his lifetime ban from competing in Olympic sports, and is even prepared to testify against top cycling officials. Yet, just last month Armstrong was surprisingly defiant in a meeting with Travis Tygart, head of the USADA. Sources tell the Wall Street Journal that Armstrong argued he'd been unfairly singled out, since cheating is rampant in all professional sports. "You don't hold the keys to my redemption," he said. "There's one person who holds the keys to my redemption," he added, pointing to himself, "and that's me." Apparently, he forgot to mention Oprah, the real key to any celebrity redemption tour.
Some of Armstrong's teammates cooperated with the USADA's investigation and were given bans as short as six months in return. Lawyers for the USADA reached out to Armstrong's attorneys in May to see if they could work out a similar agreement, but their talks fell apart. After Armstrong was stripped of his seven Tour de France titles in October, he was dropped by all of his major sponsors.
Now it appears that Armstrong has reconsidered. A source tells the Journal that he wants to be allowed to compete in elite triathlons, which he sees as his most reliable source of income. Armstrong's public confession is just the first step toward having the lifetime ban dropped. The New York Times reports that he's planning to testify against International Cycling Union officials who knew about his doping, but not against fellow riders. He's also said to be in talks with the Justice Department about possibly testifying against several team owners in a whistleblower suit that alleges Armstrong and team managers defrauded the U.S. government. The U.S. Postal Service paid more than $30 million to sponsor the team, but a contract banned riders from using "banned substances." The USADA has called Armstrong the ringleader of the team's doping program, but in his interview with Winfrey he reportedly says that he was just doing what his teammates were doing.
It appears that Armstrong has done a complete 180 in just a few months, but David Howman, director general of the World Anti-Doping Agency, told the Times he'll believe it when he sees it. "This guy is an enigma and nobody really knows what he is going to do, no matter what he says," Howman said. "I think he's got his own demons to deal with, but nothing can be done about his lifetime ban when he hasn't done anything to help us yet."