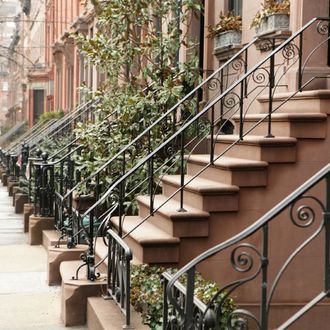 According to a 2010 Times story on the "No Lock People," a "2008 survey by State Farm Insurance of 1,000 homes across the country reported that fewer than half of those surveyed always locked their front doors."
Such indifference to home security is found not only in Small-Town America, but in our very own metropolis. One particularly stubborn locus of No Lockism in New York City appears to be Brooklyn Heights, which was warned by police yesterday that they should really stop doing that.
Too many Boerum Hill and Brooklyn Heights residents are leaving their doors unlocked and making it easy for burglars to get into their homes, police said.

At a community council meeting Tuesday night, Capt. Maximo Tolentino, the commanding officer of the 84th Precinct, said 48 out of the 141 burglaries that took place in 2012 happened when residents left their doors unlocked.

"The bottom line is, close your doors before you leave," said Tolentino.
This is not the first time that Brooklyn Heights residents had to be reminded that bad things happen even in posh, idyllic neighborhoods. From March 2011:
Brooklyn Heights, the brownstone and red-brick bastion of families new and old, has seen a crime spree of sorts: four burglaries in the past five days. But none of the burglaries came from a forced entry, a broken window. Instead, the burglars simply let themselves in through windows, or doors that residents, perhaps overly confident, had left open.

Police officers from the 84th Precinct alerted the executive director of the Brooklyn Heights Association about the burglaries, and the director, Judy Stanton, sent out an e-mail to 1,200 neighbors on Thursday morning. "This neighborhood is so safe, but not everybody puts on their city smarts and remembers to do the common sense thing and lock their doors," she said.
As a lifetime Locker, we find No Lockers very odd. When you weigh the benefits of leaving your door unlocked (you never get locked out, you don't have to spend ten seconds fishing out your keys, an abstract sense of "neighborliness") with the risks (anyone can enter your home at any time and steal your things or rape and murder your entire family), it doesn't seem like much of a debate.