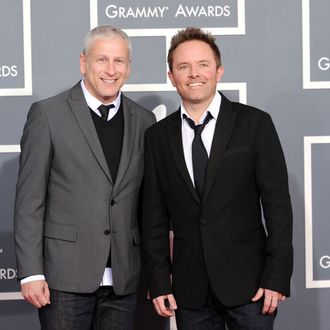 Photo: Jason Merritt/2012 Getty Images
Louie Giglio, the anti-gay Atlanta megachurch pastor selected to deliver the benediction at President Obama's upcoming inauguration, "has been removed from the program," ABC's Jon Karl reports, less than 24 hours after an old sermon he gave against homosexuality surfaced. Although progressive critics failed to stop the similarly minded Rick Warren at Obama's 2008 inauguration, the quick burst of outrage against Giglio's ties to gay "therapy" achieved swift results. "Giglio pulled himself out when he realized this was going to be a distraction," a source told ABC.
In a nineties sermon called "In Search of a Standard — Christian Response to Homosexuality," Giglio said "Homosexuality is sin," and urged, "the only way out of a homosexual lifestyle, the only way out of a relationship that has been engrained over years of time, is through the healing power of Jesus."
"It is imperative that Giglio clarify his remarks and explain whether he has evolved on gay rights, like so many other faith and political leaders," Truth Wins Out founder Wayne Besen told the New York Times. "It would be a shame to select a preacher with backward views on L.G.B.T. people at a moment when the nation is rapidly moving forward on our issues." In the meantime, one of those pesky White House petitions popped up quickly yesterday to have Giglio removed and collected 1,475 signatures.
The power of good will now dominate the inauguration, with appearances by Beyoncé singing the National Anthem, Myrlie Evers-Williams delivering the invocation, and gay Cuban writer Richard Blanco on poet duties.
Update: Here's Giglio's statement:
I am honored to be invited by the President to give the benediction at the upcoming inaugural on January 21. Though the President and I do not agree on every issue, we have fashioned a friendship around common goals and ideals, most notably, ending slavery in all its forms.

Due to a message of mine that has surfaced from 15-20 years ago, it is likely that my participation, and the prayer I would offer, will be dwarfed by those seeking to make their agenda the focal point of the inauguration. Clearly, speaking on this issue has not been in the range of my priorities in the past fifteen years. Instead, my aim has been to call people to ultimate significance as we make much of Jesus Christ.

Neither I, nor our team, feel it best serves the core message and goals we are seeking to accomplish to be in a fight on an issue not of our choosing, thus I respectfully withdraw my acceptance of the President's invitation. I will continue to pray regularly for the President, and urge the nation to do so. I will most certainly pray for him on Inauguration Day.

Our nation is deeply divided and hurting, and more than ever need God's grace and mercy in our time of need.