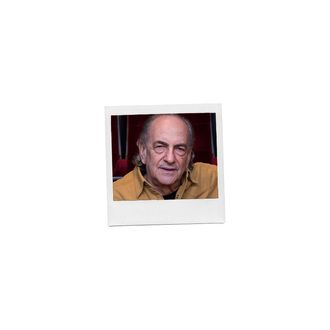 Photo: Courtesy of Russ Rowland
Name: Lyle Kessler
Age: Lost count in the 1980s.
Neighborhood: Greenwich Village
Occupation: Playwright/Screenwriter. His new play Collision, presented by the Amoralists Theater Company, begins previews tomorrow at the Rattlestick Playwrights Theater. In March, the revival of his classic Orphans opens on Broadway, starring Alec Baldwin and Shia LaBeouf.
Who's your favorite New Yorker, living or dead, real or fictional?
Babe Ruth.
What's the best meal you've eaten in New York?
At a long-gone charming restaurant in the West Village called Le Jules Verne with paintings from his various science-fiction novels hanging on the walls. It was a brunch in the sixties, a shrimp omelette.
In one sentence, what do you actually do all day in your job?
Write.
What was your first job in New York?
Part-time taxi driver as I was pursuing acting, along with my other actor friends, Bruce Dern and Charlie Dierkop. After that, part-time at the Off Track Betting Telephone Answering Room. Gamblers calling in to see how much they lost or won on their horse the day before. Many groans and also screams of delight.
What's the last thing you saw on Broadway?
I saw a dead cat on Broadway and 8th Street, but I don't imagine your referring to that. The last play was Glengarry with my friends Al and Bobby head-to-head.
Do you give money to panhandlers?
What is a panhandler? Where did that word come from? Can you ask it of me again, more simply; I'm from North Philly.
What's your drink?
Martini, three olives.
How often do you prepare your own meals?
Breakfast occasionally, salads at dinner to go along with the meal prepared by my beautiful wife, Margaret Ladd.
What's your favorite medication?
None of your business.
What's hanging above your sofa?
Nothing. We just moved into an apartment on Sheridan Square, and all our furniture is stored. Ask me again in three months.
How much is too much to spend on a haircut?
$45.25.
When's bedtime?
It varies, no particular schedule. I prefer early.
Which do you prefer, the old Times Square or the new Time Square?
I miss the old Times Square — George M. Cohan, Yankee Doodle Dandy, and all those religious zealots standing on a soapbox proclaiming God.
What do you think of Donald Trump?
I wrote a movie that took place in New York years ago called The Saint of Fort Washington with Danny Glover and Matt Dillon, two homeless men struggling to get a foot back into society. Trump said he would give apartments to the homeless in one of his buildings, but it was only a pretense to drive out the other occupants, at which time he kicked the homeless out and turned it into a luxury building. Need you ask more.
Who is your mortal enemy?
I refuse to say his name. It would only empower him.
When's the last time you drove a car?
I drove a U-Haul two months ago when James Kautz and the Amoralists Theater Company moved all our possessions from the East 9th Street apartment we were leasing to our Sheridan Square apartment.
How has the Wall Street crash affected you.
It damaged one of my bumpers.
Times, PostDaily News?
Yes, in that order.
Where do you go to be alone?
Washington Square Park, in walking distance.
What makes someone a New Yorker?
A wish for contact. We lived in L.A. for many years where there was a wish for lack of contact. Indiscriminate contact is the Name of the Game in New York! Love it!