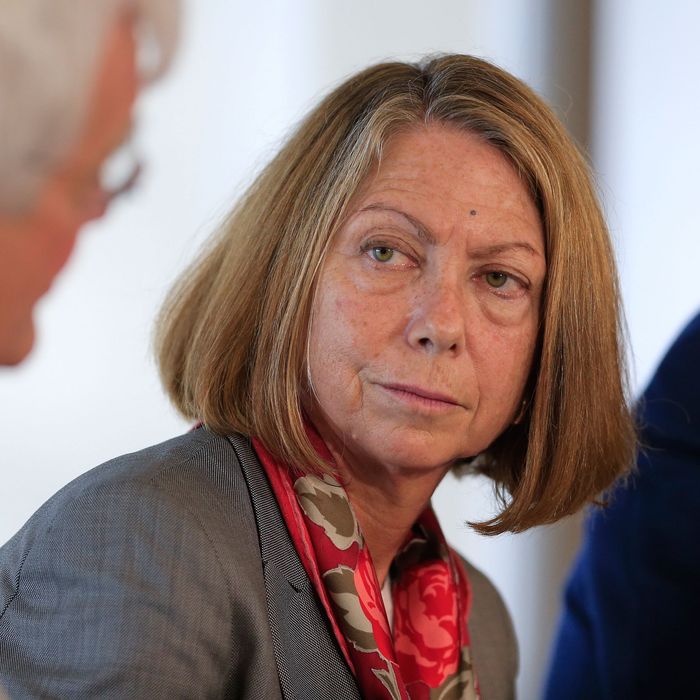 Photo: Andrew Harrer/Bloomberg/Getty Images
The next two weeks are going to get tense inside the headquarters of the New York Times.
Last month, executive editor Jill Abramson told the staff she'd have to cut 30 positions from the news division to buffer against financial losses from rapidly declining advertising revenue. Reporters and editors would be offered buyouts, she said, but if she didn't have enough takers in a month's time, she would be "forced to go to layoffs."
As the January 24 deadline approaches, only two people, assistant managing editor Jonathan Landman and reporter Jacques Steinberg, have formally announced their exits. But there are said to be ongoing and heated negotiations — "begging and pleading," says one source — with several top editors as Abramson prepares to shrink the very top of the masthead. In a memo to the newsroom today, Abramson said, "Since I last spoke to you about the buyouts, some of our colleagues have made decisions to ask for them. Others are still making up their minds and considering whether the package fits their career and life plans."
The newsroom is rife with speculation about the fates of such top-level Times figures as managing editor John Geddes (who is widely believed to be negotiating an exit), former Washington editor Rick Berke, former Times Magazine editor Gerry Marzorati, assistant managing editor, Jim Roberts, and dining editor Susan Edgerley.
Times sources say the paper's senior ranks have long been bloated, with assistant managing editors retaining high salaries even after their editorial portfolios have shrunk.
Abramson is offering some senior editors alternate jobs, presumably at reduced salaries. Glenn Kramon, an assistant managing editor who has been overseeing long-form investigations, is moving to San Francisco to become the new technology editor.
In the wake of the bloodletting, Larry Ingrassia, who recently departed as editor of the "Biz Day" section, will rise to take a powerful leadership position atop a much-reduced masthead. His job will consolidate the roles of outgoing editors, including oversight of new digital and branding initiatives, conferences, and events.
Last month, Times publisher and chairman Arthur Sulzberger Jr. said that all divisions of the newspaper needed to "identify cost savings" during a time of plummeting ad sales revenue. But at least one division appears to have been spared: the editorial page. Editor Andrew Rosenthal has told his staffers that there will be no cuts, and so far none have occurred there as he's found ways to reduce expenditures without firing people. Indeed, in the last two years, as the news division has been hit with repeated buyouts, the opinion pages have expanded to include the "Sunday Review," which has become, primarily, a bastion of left-leaning opinion and analysis.
It's only the start. Sulzberger hired Mark Thompson, the Times' new CEO, to shepherd the paper through a major transition to a global digital outfit, not unlike what he did with the BBC, his previous perch. As part of that, the paper is developing a three-year plan to downsize the company as it migrates to a new business model. As Abramson said in today's memo, "In order to expand digitally and internationally in the exciting ways we have planned, it is natural to reshape our contours."
What might this re-contoured Times look like? More opinion, certainly, but also more "branded" news events. To wit: Last month, the Times' business news site, Dealbook, put on a conference featuring its star news columnist, Andrew Ross Sorkin, and opinion columnist, Paul Krugman, along with the subjects of Sorkin's beat, Goldman Sachs CEO Lloyd Blankfein and JP Morgan Chase CEO Jamie Dimon, as guest panelists. Times public editor Margaret Sullivan wrote that the "chummy" affair made her "queasy."
"Given the lunchtime rollout of a new Blackberry device," said Sullivan, "the overall friendly questioning of prominent newsmakers, the reception afterward — featuring wine, hors d'oeuvres and the incessant rubbing of journalistic and corporate elbows — the word 'adversarial' did not come to mind. Nor did the word 'watchdog.'"
But the event was lucrative. And the Times is exploring ways it can expand on the concept. In today's paper, the Times is advertising a cruise to Europe for readers next fall, which will feature writers and columnists like Elisabeth Bumiller, David Sanger, Timothy Egan, and Wendy Schiller. And it recently sent out a survey to select readers asking them if they'd like to chat online with some of the Times' writers from the "Biz Day," "Dining," and "Culture" sections, and whether they'd be willing to pay a premium for the access. The survey explicitly asked the participants not to share the information with anyone.
Here is the full text of Abramson's memo:
Dear Colleagues,

Dean and I just spent a thrilling hour batting ideas around with a group of reporters and editors from the business desk. Your story ideas are what make every day that we have our jobs so meaningful (and fun). And it means the world to us that you have continued to crank out such fabulous journalism when there is bumpy air and anxiety in the newsroom.

Since I last spoke to you about the buyouts, some of our colleagues have made decisions to ask for them. Others are still making up their minds and considering whether the package fits their career and life plans. We won't know how many people until Jan. 24. Some colleagues, who have made their decisions, have shared the news on Ahead of The Times. Others, like Jon Landman, have shared their decisions with their staffs, Jon in a typically classy, heartfelt note that reflected his many gifts as a journalist. But not everyone wants his/her deliberations and decisions made public. The reality of losing treasured colleagues, including ones who have devoted so much of themselves and their careers to The Times, is terribly painful.

Since there is a void of information, I know that worries intensify. Rumors circulate. Thus, I wanted, once again, to reassure you on key issues:

1.  This phase of the buyout process is voluntary. We honestly don't know yet how many people will raise their hands and how many of their buyout requests we will be able to accept. (It is NOT true that we already know that interest in the buyouts won¹t be robust enough to prevent involuntary measures).

2. In the event that we do not get the numbers we need in this round and we do need to go to layoffs, no Guild members will be affected. (Don¹t believe anything you hear to the contrary).

3.  While the newsroom must achieve substantial savings, this exercise is neither bigger nor deeper than the situation we faced in 2009. We expect to reduce the ranks of the excluded staff by about 30 positions.

4. There is a newsroom strategy for the cuts we are making and some reshaping that is underway. We are changing some of traditional architecture of the newsroom, including in the leadership and editing ranks. For instance, we have decided not to continue having separate editing and reporting groups on the environment and how we live. We will continue to cover these areas of national and international life just as aggressively and Dean and I are having talks with all the journalists in those groups about how to do this without the existing "pod" structure.

Even if there was no fiscal pressure to do so, we would be making some structural changes in the newsroom to balance our precious journalistic resources. In order to expand digitally and internationally in the exciting ways we have planned, it is natural to reshape our contours.

Because of your talents and our strategy of integration, our superb news report sustains all of our platforms, including new growth areas. The print newspaper just keeps getting better. It will continue to be the jewel in our crown for years and years to come. It is meaningful that the icon on our popular Times iPhone and iPad apps is the ultimate symbol of cool: that day's front page.

If you have questions, please don't be shy about approaching me or Dean. Lack of exact information may be the biggest problem we face right now, but we are halfway to Jan. 24, when we will all know more. And I will always adhere to my promise to tell you when I know something.

Fondly,

Jill