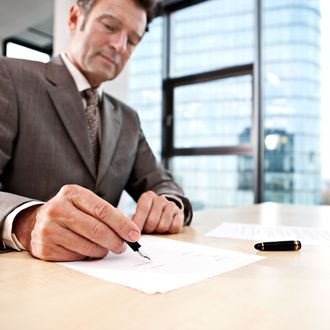 This hedge funder cannot afford a computer.
Photo: John Smith/Corbis
Have you noticed a few more fleeces and Ferragamo loafers popping up in midtown these days? Does your nose fill with the scent of carried interest every time you venture above 42nd Street?
If so, you're not mistaken. There are more hedge funds than ever in Manhattan, according to The Wall Street Journal, as firms increasingly choose to locate themselves in the city rather than in the gentler climes of Greenwich and Stamford. Being here allows firms to raise money from wealthy city-dwellers and investors who don't want to make the trek up I-95 to Fairfield County. It also, presumably, gives them many more Seamless options at lunchtime.
Of the new firms starting out in Manhattan, Greenwich or Stamford, about 86% picked the Big Apple, on average, from 2003 to 2008, according to eVestment, which tracks data on about 70% of U.S. hedge-fund firms. In 2009 and 2010, Manhattan was home to an average of 92% of the fund launches. Data for 2011 suggest the trend has continued.
The Journal also learns that a stretch of midtown east — from 42nd Street to 62nd Street, between Third Avenue and Seventh Avenue — is called "the golden rectangle" by hedge funds looking to raise money, due to its proximity to a lot of really rich people. Which is better than that area's old nickname: "land of tourists and $17 cocktails."