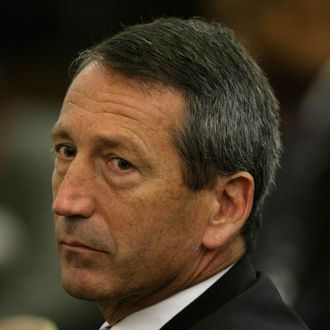 South Carolina Gov. Mark Sanford pauses during a hearing before the House Ways and Means Committee on Capitol Hill October 29, 2008 in Washington, DC. The hearing was focused on economic recovery and job creation through investment.
Photo: Alex Wong/Getty Images
As pretty much expected, former South Carolina governor/notorious adulterer/hopeless romantic Mark Sanford will attempt a political comeback with a run for Tim Scott's former congressional seat. In a December poll, Sanford had a pretty dismal -23 favorability rating among all South Carolina voters statewide, but he has deep roots in the district itself, which, like most South Carolina congressional districts, is solidly Republican.