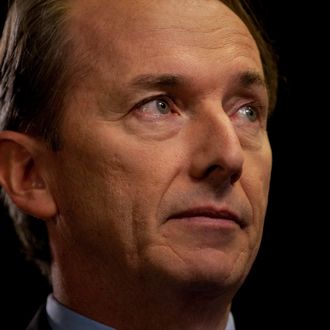 Bringing bad feng shui to the C-suite.
Wall Street guys are literal-minded. Call 'em like they see 'em. Ask them what's up, and they look to the sky. Tell them to hold their horses, and they'll run out, find a couple of Clydesdales, and bring them back to the office.
So sometimes, when you're trying to get a point across to executives at your struggling Wall Street bank, you have to make the metaphors exceedingly simple. James Gorman, the CEO of erstwhile bank Morgan Stanley, knows what I'm talking about. When he addressed his deputies last September at the Gramercy Park Hotel to talk about the bank's turnaround attempt, just telling them "we're sort of hurting here" wasn't enough. No, he decided to put them in a cramped box of pain to nail the point home.
Says DealBook:
When Morgan Stanley's top executives gathered in mid-September at the Gramercy Park Hotel in Manhattan to discuss strategy, some participants complained that the room was too small.

Apparently, that was the point: James P. Gorman, Morgan Stanley's chief executive, chose the cramped quarters to force discussion among the executives, said people briefed on his decision but not authorized to speak on the record.
If Morgan Stanley misses its earnings next week, Gorman will presumably start holding meetings in a broom closet at 1585 Broadway, or maybe rent out one of those micro-studios Mayor Bloomberg is always talking about.