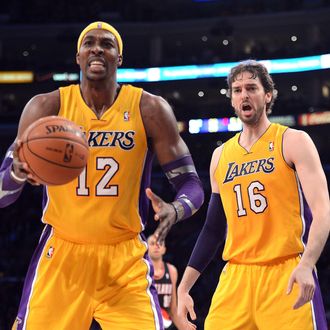 Dwight Howard.
Photo: Harry How/Getty Images
Now, we're about to bring this up, but know that we're fully aware that Dwight Howard — and the supposed trade talk with the Nets — essentially ate up most of everyone's summer and turned everyone against him even before he started having the worst season of his career. We know how exhausting it was to watch Howard play Idiot Hamlet, tossing himself to and fro, torn between which NBA franchise he would force the Orlando Magic to allow to pay him millions of dollars to run up and down a wooden floor in his underwear. We know how the first few months of the Brooklyn Nets' existence was focused almost entirely on Howard. We get it, and we apologize. But still: The Howard-to-Nets stories have returned. But this time, it's the Nets against the trade, not the Magic.
RealGM reported last night that the Lakers would consider trading Howard before the February 21 deadline if the team doesn't turn their season around by then, thanks to the team's continued struggles and Howard's issues with coach Mike D'Antoni. (Remember when players just couldn't wait to play with D'Antoni? Seems like decades ago.) That led, inevitably, to the Nets, the team Howard has always said he wants to play for — and probably would be playing for, had he not inexplicably reupped his contract with the Magic at the end of last year (before almost immediately changing his mind). The Nets' whole off-season strategy was built around Howard, but when the Magic decided the Brook Lopez package the Nets were offering wasn't enough, the Nets moved on by trading for Joe Johnson and the Lakers swooped in, as the Lakers tend to do. The Dwight Howard dream was dropped.
Now that the possibility has been raised again, though … the Nets, oddly, are backing off. In fact, they're doubling down on Lopez.
According to multiple team sources, the Nets have not engaged in trade talks for Howard and remain skeptical the Lakers will deal their center by next month's deadline. They've also talked privately with Lopez about the circumstances, reassuring him that he's not involved in any trade proposals after he signed a four-year, $61 million deal.
We're skeptical that the Lakers would trade Howard too; they gave up Andrew Bynum — who used to be a valuable trade commodity himself — to bring in Howard, and they still think living in L.A. and being the centerpiece of the next Lakers dynasty will be enough for him to re-sign in the off-season. But if the Lakers would consider trading Howard — something that seems at least conceivable if the Lakers continue to be terrible and Howard continues to hate D'Antoni, who is signed on to coach for another three years — the Nets would have to offer the same deal as before, right? The RealGM deal had Howard going to Brooklyn, Lopez going to Minnesota, and Kevin Love going to the Lakers. (The Nets would have to ship a little money out to make this work, as well.) The Nets now say they wouldn't do this.
If that's true, they're nuts; a small sample size bias if there ever were one. Sure, Lopez is having the best year of his career — he's actually fifth in the NBA in PER, just behind Carmelo Anthony; Howard is 28th — and is likely to be named to his first All-Star Game on Thursday. The Nets are in the middle of a winning streak, and Lopez has clearly put his injury woes behind him. Meanwhile, the Lakers are imploding, and Howard looks disinterested and/or still injured. (His reputation is also at an all-time low.) But can anyone seriously argue that the Nets aren't a better team over the next five years with Dwight Howard rather than Brook Lopez? Let's look at the PERs for the two players over the last four years:
2011-12
Howard: 5th
Lopez: didn't qualify, but would have been 19th
2010-11
Howard: 2nd
Lopez: 34th

2009-10
Howard: 6th
Lopez: 27th
2008-09
Howard: 4th
Lopez: 57th
You get the point: Howard is a franchise-changing force of nature who is only, still, 27 years old; Brook Lopez is an above-average center. Lopez's defensive and rebounding look better this year because he's had bruisers (and non-scorers) like Reggie Evans and Kris Humphries working with him; with Howard, you get that all the time, and you can play the stretch 4s that are all the rage in the NBA these days because Howard (a healthy Howard, anyway) can compensate underneath. Howard is having a rougher year than Lopez in large part because he rushed himself back from an injury in a free-agent year; a healthy Howard is as dominant as any player in the NBA this side of LeBron.
Lopez has been better than Howard so far this year, for a variety of reasons. But there hasn't been a single 40-game stretch other than this one in either player's career when that has been the case. Right now, things are going well for the Nets, and things are going poorly for the Lakers. But is there anyone who really thinks the Nets have a better chance to win a championship long-term with Lopez instead of Howard? This is actually the best-case scenario for the Nets: Lopez's value is at an all-time high, and Howard's is at an all-time low. History tells us it won't stay like that for long.
Listen, it's unlikely any deal is going to happen: The Lakers probably aren't desperate enough to trade Howard, no matter how annoyed he is with D'Antoni. But if the Lakers send out a feeler to the Nets, and the Nets don't jump on a trade immediately, they're only fooling themselves with Lopez, a fine player who is not, and will never be, Dwight Howard. If the Nets have a chance to get Howard, they must. Wasn't this supposed to be the plan all along? Isn't this what the Nets wanted? Everything in the Nets' plan to get Dwight Howard has worked out perfectly, except for the part where the Nets still want Dwight Howard.