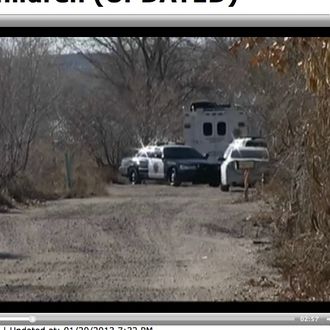 Image via KOB Eyewitness News.
Photo: KOB Eyewitness News
Police arrested 15-year-old Nehemiah Griego on Sunday following the shooting of five people, including three young children, at a home in a rural area near Albuquerque, New Mexico. Police wouldn't name the victims, but community members identified them as Greg Griego, his wife, their two daughters, and a son. It's believed that Greg Griego is Nehemiah's father. According to CNN, police discovered the horrific scene on Saturday night when "a party that was called by the suspect" dialed 911. Each of the victims had several gunshot wounds, and police say they think the shooter used an AR-15, the same gun used in the Colorado theater shooting and the Newtown massacre.
Greg Griego served as a pastor at Calvary, a church in Albuquerque, for years before taking a leave of absence last year. KOB Eyewitness News reports that he also worked as a spiritual counselor at the Albuquerque Fire Department and spent thirteen years as a volunteer pastor at the local jail. He was known for starting the jail's "God Pod," a unit for inmates interested in studying the Bible, and its "Straight Streets" program, which helped inmates reintegrate into society. 
Nehemiah Griego has been placed in a juvenile detention center, according to police. He's charged with two counts of murder and three counts of "child abuse resulting in death."