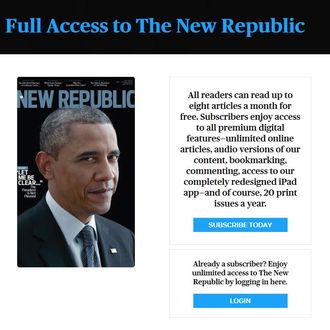 The hotly anticipated relaunch of the 98-year-old New Republic under Chris Hughes is finally upon us, and the verdict is … not in yet. In a media era of insta-reactions, the journalism world's top pundits may be rightly overwhelmed by the intense rollout phase of the publication's new life, in which writing about The New Republic far outweighs writing from The New Republic. "Shouldn't we wait until the second issue of the new @tnr before we damn it to holy hell?" tweeted media critic Jack Shafer. "That's how I've set my alarm clock." All we have to go on for now is what we've been told — and what's been left out.
It's been less than a year since Hughes, the Facebook millionaire, bought the magazine and pitched his vision of it as "The New Yorker of Washington, D.C.," but expectations have been steadily on the rise. New York's own Carl Swanson wrote last month that as owner, publisher, and editor-in-chief, Hughes "wants to produce what thoughtful people ought to read, as opposed to churning out what most people like to 'like.'"
But in today's curtain-raiser from the New York Times, we learned "that while the magazine would continue to have arts critics review subjects like books and visual arts, he is just as interested in covering topics like electronica and the HBO series Girls." And while the first issue has the big-name writers (Walter Kirn, Michael Lewis) and hot topics (Kathryn Bigelow, Jill Kelley), the new TNR.com is today banking entirely on the Barack Obama cover story, a Q&A conducted by both the magazine's new/old editor Franklin Foer and Hughes himself, who has both worked for and donated to Obama.
In his welcome letter, Hughes writes, "The journalism in these pages will strive to be free of party ideology or partisan bias," to which the National Review's Jonah Goldberg already says hmmm. "I wish the new New Republic long life and prosperity (as I do for all print opinion magazines). But if the above were true, TNR's hiring of obviously ideologically liberal editors and writers is a bit contradictory," Goldberg wrote. "I honestly don't know exactly what Hughes means by this, but it strikes me as a very bad start."
What's not in Hughes's letter or the Times article are details about the money side. "[W]hile he's completely upfront about not having a business-side 'silver bullet,' he has confidence that there's a way to make it work," Swanson wrote in these pages. "One of the first experiments Hughes made at the magazine was to take down its paywall, to help it get back in the conversation in the months leading up to the election — it quickly got to over 3 million unique visitors. He hired a Harvard M.B.A. who'd worked at Bain & Co. to be COO and rethink the business model."
Subscriptions are up about 10,000 since Hughes bought the magazine, while Facebook and Twitter followers have jumped, but apparently the removal of the paywall was nothing more than a buzz-building experiment. It's back now, as noted by All Things D, allowing nonsubscribers an eight-article limit. As with the Times' metered system, there are work-arounds: Links from Twitter seem to work, as does changing browsers or devices, but inbound links from other websites are still counted toward the limit. Ads are for now entirely absent on the site, and the homepage will remain that way, Mashable reported, although there's "some opportunity" for ads on article pages and through customized premium packages, Hughes said.
As for the actual paper pages, Politico said "there's nothing unexpected" in a rather unimpressed review: "It just feels cold, slightly uninviting. There's no aesthetic." But most would-be critics are waiting: "The challenges for any magazine of ambition have probably never been greater, but I'm rooting for them," New Yorker editor David Remnick told the Times. "I'm rooting for the New Republic, too," media professor Jay Rosen chimed in on Twitter, "but what I want to know in a profile is: what happens to the contrarianism tick?"
"I've never HAD to read The New Republic, a fact I confirmed during 20 adult, literate years," added Reuters editor Robert MacMillan. "I hope that changes." Hughes is betting on it, and his confidence — combined with his bank account — has the doubters keeping quiet for now.