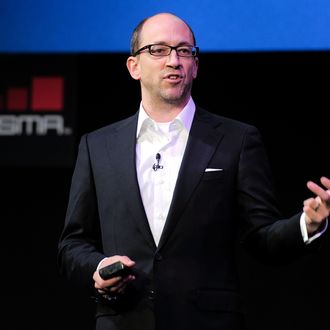 Twitter CEO Dick Costolo.
Photo: JOSEP LAGO/AFP/Getty Images
With a Facebook rivalry in full force and photo war with Instagram just beginning, Twitter's IPO is once again rumored to be on the horizon. Citing suggestions from Greencrest Capital, Forbes writes that Twitter's preparations for a public debut may begin this year.
According Max Wolff at the IPO-savvy outfit, determining a number for the thirteen-year-old company is "a rumor-rich and special-share-class soup." He added: "That said, Twitter is up since the Facebook IPO and is now valued at northward of $11 billion. This makes sense as growth in users and new monetization efforts are both yielding fruit and pointing toward a good 2013 for Twitter."
Let's remember that rumors of Twitter going public surfaced as early as December 2010 when it was valued at $3.7 billion (the number jumped to $8 billion seven months later). And there's still no word on whether the rumored merger with Apple is a done deal. Either way, it might just be time to prepare for Twitter's spin war - like Facebook's before it.