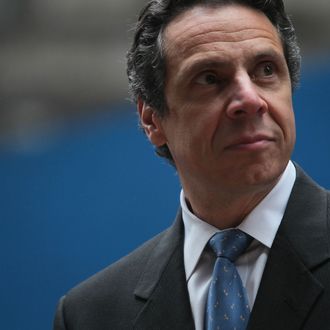 Photo: Chris Hondros/2010 Getty Images
New York's post-Newtown package of new gun-control laws, which passed the state Senate by a vote of 43 to 18 on Monday night, includes many new restrictions that gun advocates will hate, and at least one they're sure to approve of: In the wake of the Journal News's map of handgun permit holders, gun owners' data under the new law would not be subject to the Freedom of Information Law. The Journal News used that law to request the data to create its controversial map. According to The New York Times, "the legislation would allow counties to keep the names and addresses of gun owners confidential under certain circumstances." The rest of the new laws focus on restricting the types of guns available, the capacity of magazines, and the availability of guns to the mentally ill.
The bill, which is expected to easily pass in the Democrat-led Assembly, would enhance restrictions on assault rifles, making the gun used in the Newtown shooting illegal. The Wall Street Journal explains: "The current law in New York bans all rifles that had two features of assault weapons—a pistol grip and a bayonet mount, for instance. But the new laws would ban all rifles with at least one assault-weapon feature, prohibiting the AR-15's pistol grip." It would also reduce the limit of high-capacity magazines from ten rounds to seven, and would require background checks through dealers on private sales of assault weapons to anyone other than immediate family.
The Times describes the new restrictions for the mentally ill as a "nod to one concern of gun rights advocates who have argued that the solution to gun violence is not new restrictions on guns but restrictions on the seriously mentally ill." They consist of a requirement that mental health professionals report to law enforcement patients deemed dangerous, whose gun licenses could then be revoked or suspended. "The legislation would also expand Kendra's Law, which empowers judges to order mentally ill patients to receive outpatient treatment. It would require gun owners to safely store their weapons if they live with someone barred from possessing a firearm."
The full text of the bill, plus Cuomo's fact sheet, is available at the Albany Times Union. By getting the bill passed on Monday, which happens to be the one-month anniversary of the Newtown tragedy, the governor has succeeded in passing the first piece of new gun legislation since the massacre. Not a bad claim for a guy being suggested as a possible 2016 presidential candidate.
This post was updated throughout.