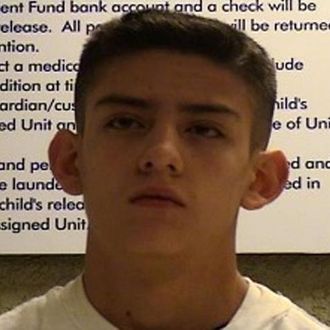 Nehemiah Griego's mug shot.
Photo: Bernalillo County
On Monday, police released chilling new details in the case of 15-year-old Nehemiah Griego, who's accused of killing his parents and three siblings in his New Mexico home on Friday night. According to a probable cause document released to KOB News 4, Nehemiah Griego told authorities that he committed the murders because he had "anger issues" and "was annoyed with" his mother. After the shooting, Griego placed several loaded guns in the family's van, and he told officers later that he intended to go to a public place and shoot random people.
Griego said that around midnight on Friday, he took his parents' .22 caliber rifle and shot his mother, Sarah Griego, in the head while she was in bed. His 9-year-old brother Zephania, who had been sleeping next to her, was shot next, followed by his sisters Jael, 5, and Angelina, 2, who were in the next room. Griego said he then took an AR-15 rifle from the closet and waited for about five hours in a downstairs bathroom, then shot his father, Greg Griego, multiple times when he came home.
Sources tell the Albuquerque Journal that Griego was headed to a Walmart with the guns, but a larger tragedy was averted when a friend he called after the shooting convinced him to go to Calvary, the church where his father had been a pastor. There he told a church security guard that his family was dead. Griego changed his story several times, claiming that his family had been killed in a car accident, then saying that he came home from a friend's house and found them dead. Eventually, he told officers that he murdered his family and hoped to open fire in a public place, then die in a shootout with police.
The Griego family hadn't placed any emergency calls recently, and authorities say Nehemiah had "no history with the juvenile justice system." He's been charged with two counts of murder and three counts of child abuse resulting in death, and is expected to appear in court on Tuesday or Wednesday.