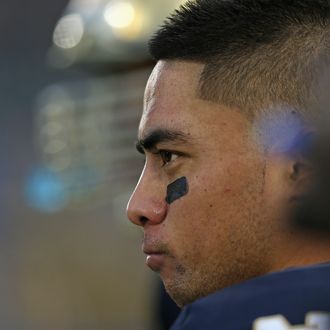 Photo: Jonathan Daniel/2012 Getty Images
Following Deadspin's bombshell revelation that linebacker Manti Te'o's dead girlfriend never existed, we were left to wonder if Te'o or Notre Dame — which has a long history of heartwarming hoaxes — might have concocted the tale to generate publicity. In a long press conference on Wednesday night, Jack Swarbrick, the school's athletic director, insisted that they did nothing wrong — and in fact, when the full story comes to light, we'll actually feel even more sympathy for the heroic player.
According to Swarbrick, Te'o learned that he'd been duped in early December, when he received a phone call from his "dead" girlfriend Lennay Kekua during the ESPN awards. The call came from her phone, and "When he answered it, it was a person whose voice sounded like the same voice he had talked to, who told him that she was, in fact, not dead," says Swarbrick. Te'o informed his coaches on December 26, and soon after the school hired an "independent investigative firm." "This was a very elaborate, very sophisticated hoax perpetrated for reasons we can't fully understand but had a certain cruelty at its core, based on the exchanges that we were able to see between some of the people who perpetrated it," said Swarbrick, who added, "Nothing about what I have learned has shaken my faith in Manti Te'o one iota."
Swarbrick suggested several people impersonated Kekua and her family members and there were a "remarkable number of characters involved." Investigators uncovered "online chatter among the perpetrators" that revealed "the joy they were taking, the sort of casualness with which among themselves they were referring to what they had accomplished and what they had done." For those who find that story far-fetched, Swarbrick encouraged them to look up the documentary and subsequent MTV show Catfish, and noted that "catfishing" is all the rage with young people:
It is a scam — I'm probably revealing my television watching habits, but it was covered by Dr. Phil extensively recently — that follows the exact arc of this, and it's perpetrated with shocking frequency, for me shocking as an older guy who's not as versed in the online world, and it is just as this one. An initial casual engagement, a developing relationship online, a subsequent trauma traffic accident, illness and then a death.
Swarbrick's account only raised more questions about that "initial casual engagement." In his statement earlier on Wednesday, Te'o said he "developed an emotional relationship with a woman I met online." Swarbrick said Te'o made it clear to him that the initial meeting with Kekua happened online, "And as part of the hoax, several meetings were set up where Lennay never showed, including some in Hawaii." Yet, as the New York Times notes, in October The South Bend Tribune had this description of their initial meeting in 2009: "Lennay Kekua was a Stanford student and Cardinal football fan when the two exchanged glances, handshakes and phone numbers that fateful weekend three seasons ago." In the same article, Te'o's father said that Kekua would occasionally travel to Hawaii, "so he would meet with her there."
It's hard to believe that T'eo didn't get suspicious when his girlfriend of three years, who he'd never met, stood him up repeatedly, but Swarbrick had an explanation. Te'o is ridiculously gullible:
In many ways, Manti was the perfect mark because he is a guy who is so willing to believe in others and so ready to help that, as this hoax played out in a way that called upon those tendencies of Manti and roped him more and more into the trap. He was not a person who would have a second thought about offering his assistance and help in engaging fully.
There's still plenty about this story that just doesn't add up, and Swarbrick said Te'o may speak to the press as early as Thursday. He added that T'eo's family was planning to release the story next week, and Notre Dame knew it couldn't stay hidden for long. "There was not an intention, a belief, anything that this story would not get told," he said. "We had hoped the first person to tell it was going to be Manti."