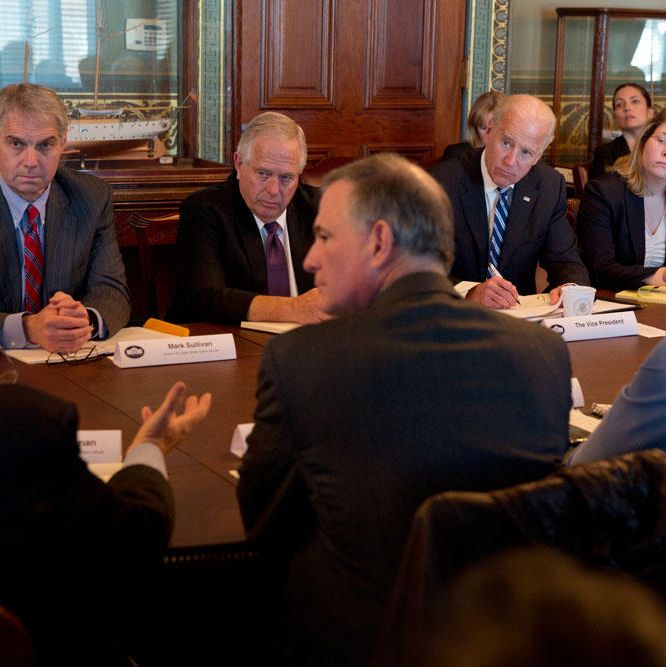 While the country was learning about yet another school shooting, this time by a 16-year-old with a shotgun in California, Vice-President Joe Biden was meeting with gun advocates, including the National Rifle Association. It went … not great, according to an NRA statement released following the sit-down: "We attended today's White House meeting to discuss how to keep our children safe and were prepared to have a meaningful conversation about school safety, mental health issues, the marketing of violence to our kids and the collapse of federal prosecutions of violent criminals," the group said. "We were disappointed with how little this meeting had to do with keeping our children safe and how much it had to do with an agenda to attack the Second Amendment."
Biden is hard at work on his "ambitious" gun-control plan, which reportedly includes not just options for addressing firearms and ammunition, but also mental health and violence in pop culture, though it makes sense that he would want to speak to the gun guys mostly about the gun stuff. "We're willing to listen," the NRA said in a statement before the meeting. "There has got to be some common ground, to not solve every problem but diminish the probability" of mass killings, Biden said.
And yet: "While claiming that no policy proposals would be 'prejudged,' this Task Force spent most of its time on proposed restrictions on lawful firearms owners — honest, taxpaying, hardworking Americans," the NRA complained immediately after. "It is unfortunate that this Administration continues to insist on pushing failed solutions to our nation's most pressing problems. We will not allow law-abiding gun owners to be blamed for the acts of criminals and madmen."
"The president is going to act," the vice-president said yesterday after meeting with victims' groups, including those from Newtown, Connecticut. "There is executive action that can be taken. We haven't decided what that is yet." His recommendations are expected on Tuesday, at which point the NRA will really have something to be disappointed in.