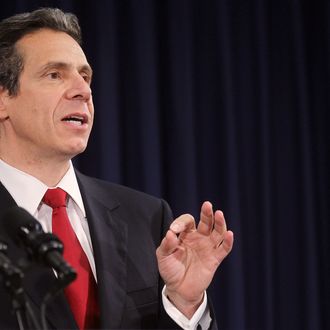 Photo: Mario Tama/2010 Getty Images
In his State of the State address on Wednesday, Governor Cuomo said New York must "stop the madness" and set an example for the rest of the country by passing the nation's strictest gun laws, including an expanded ban on assault weapons, more limits on the size of magazines, and background checks to purchase ammunition. Though Cuomo failed to work out a deal with state legislators before the speech, things are looking up for the governor. Lawmakers in Albany say they expect to vote on a package of legislation as early as next week, and Senate Republicans indicated that they won't block the legislation. (According to the New York Times, Cuomo's threat to travel the state blaming Senate Republicans might have something to do with it.) Now the only thing standing in Cuomo's way is the backlash from gun rights advocates.
The Shooters Committee on Political Education, a New York gun rights group, is already calling on its members to mobilize. "The legislators are going to be getting a lot of phone calls in their district offices," said chairman Budd Schroeder. "How is taking away my rights to own any type of firearm I choose going to change the attitude of a criminal?"
NRA President David Keene responded on the Brooklyn GOP Radio podcast that Cuomo's effort won't "make any difference one way or the other in terms of violence of any kind in the state," adding that he's "amazed" that the governor thinks other states might follow New York's lead because, "They haven't done that in the past, there's no reason to believe that they will in the future." Chris Cox, the NRA's chief lobbyist, told the Times, "We fully expect that New York state's gun owners will be completely engaged in this debate and NRA will be there to lead them." The NRA has made more campaign donations to politicians in New York than in any other state, so we'll soon find out if Cuomo has more sway over Senate Republicans than the gun group's cash.