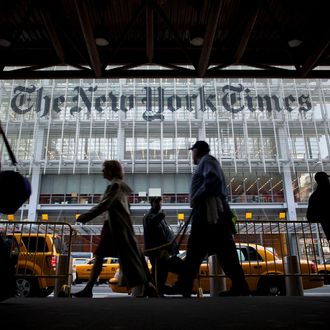 Who else will say goodbye?
Photo: Bloomberg/2011 Bloomberg
The Gray Lady's culture editor told coworkers he would be leaving today, according to Poynter. Jonathan Landman, who had been in his current post since 2009, is the first to publicly accept the buyout and leave the paper.
In his goodbye email, Landman wrote:
    "…We all know that the newsroom has to reduce its costs. No less urgent is its responsibility to cultivate a new generation of leaders. My continued presence would help accomplish neither. So it's time to go."

He added that he "never quite believed [his] good fortune" but didn't say what he'd be doing next.