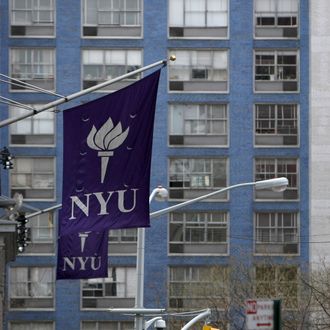 Photo: Bloomberg/Bloomberg2010 Bloomberg
From the Department of Problems We're Glad We Don't Have to Deal With comes an NYU student's complaint that she's being forced to live with her new roommate's 4-year-old son in a campus apartment shared by six college students. Under NYU Housing's visitation policy, the roommate is allowed to check the kid in as a visitor every day and have him sleep over six nights a month. And according to Shasten Snellgroves, whose letter complaining about the situation was reprinted on NYU Local, the housing directors are taking that literally, telling her, "the guest policy does apply equally to guests of any age." One official compared her discomfort at spending so much time with her roommate's child to "one roommate being uncomfortable with another having a homosexual partner stay the night," she writes.
Snellgroves is worried she could be liable if the child gets hurt or drinks all her wine, and fears the kid will overstay his welcome. "The resident has already asked for my signature for a permission slip for the child to stay a total of six consecutive nights." But it seems pretty unfair to let visits from someone's son affect their place in university housing, especially if they're staying within the letter of the visitation rules. As one commenter wrote, "it's unfortunate for Ms. Snellgroves, yes, but that's the gamble we all engage in when we sign up for housing." Have fun mediating that one, NYU, and if you get stuck please don't feel shy about e-mailing every single person on campus for input. We're sure they'll have some.