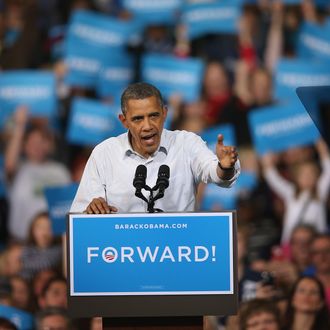 Okay, now I need you guys to get this fired up about the debt ceiling.
Photo: Scott Olson/2012 Getty Images
The campaign left President Obama with a very good problem. He'd assembled a sophisticated campaign apparatus, including organizing tools and a database with information on millions of supporters, but to be of any use it must be maintained. The Obama team couldn't decide what to do with it, and there was speculation that they might turn the database over to the Democratic National Committee, as they did in 2009. Hopefully the DNC hadn't started making any plans, because according to the L.A. Times, Obama is planning to turn it into a nonprofit group that will work to achieve his second-term policies. The move is unprecedented, and both Republicans and Democrats are likely to take issue with the president having his own powerful, independent group mobilizing supporters. "Every presidential campaign struggles with the question of, 'How do we handle our legacy?'" says election law attorney Michael Toner, who worked for George W. Bush's 2000 campaign. "This is fairly novel, and it's rare to talk about trying to house this apart from the party. I think it's very challenging, because the DNC will say, 'What about us?' Other candidates will say, 'What about us?' It's very hard to finesse that."
According to the Associated Press, the tax-exempt group will be called Organizing for Action, and will be officially launched on Sunday at a D.C. event for Obama staffers and volunteers called the Obama Legacy Conference. As a 501 (c) (4), the organization can run ads on issues, but can't support the election of a specific candidate. The group won't be required to disclose its donors, but an official says it will do so voluntarily. The organization plans to accept contributions from individuals and corporations, but not lobbyists or political action committees.
Jim Messina, the president's 2012 campaign manager, will be the group's national chairmen, and several former campaign and White House officials, including Robert Gibbs and Stephanie Cutter, will be on the board of directors. As Politico notes, this puts Messina in a powerful position, and "is an implicit rejection of DNC chair Debbie Wasserman Schultz, an Obama outsider not close to the president, as the party's operational leader." Officials say that they considered housing the organization within the DNC once again, but decided forming a nonprofit would allow campaign volunteers to continue working together. They didn't mention that when the operation — then known as Organizing for America — was deployed in an effort to muster support for Obamacare, it didn't have much of an impact.
The hope is that the operation will work differently with campaign officials running it, and their first order of business comes as no surprise. In an e-mail sent to supporters on Thursday, Messina asked for support on the president's push for tighter gun control. Gibbs also hinted at the group's launch in an MSNBC interview on Wednesday. "The president has the most exciting campaign apparatus ever built. It's time to turn that loose," he said. "It's time to turn that loose for something more than just an election. If the NRA's got a list, then Obama for America has a bigger list."