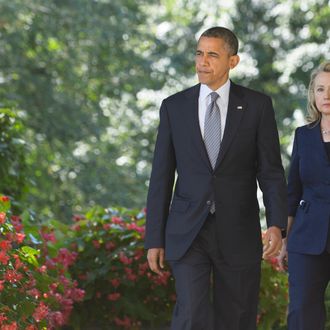 Tomorrow night, 60 Minutes will air the first-ever joint interview with President Obama and outgoing secretary of State Hillary Clinton. A teaser excerpt of broadcast shows the onetime bitter rivals starting their goodbyes to one another, and it's kind of sweet. When asked by 60 Minutes correspondent Steve Kroft why he'd asked to bring Clinton along to the interview, Obama got a little sentimental:
I just wanted to have a chance to publicly say thank you because I think Hillary will go down as one of the finest Secretaries of State we've had. It has been a great collaboration over the last four years — I'm going to miss her. Wish she was sticking around, but she has logged in so many miles I can't begrudge her wanting to take it easy for a little bit.
Hillary (clad in her emotive, double vision-correcting lenses) acknowledged that "a few years ago [this interview] would have been seen as improbable," but said that she and Obama still share the same democratic spirit and love of country that convinced her to accept his offer to head up the State Department four years ago.
"It is very unusual for the president, any president, to say I want to do an interview but I want to bring a friend," CBS News chief Washington correspondent Bob Schieffer points out. No doubt the politirati will ask all kinds of questions of the interview — like whether it was "one step short of [Obama] endorsing her to replace him next time" or "payback for her husband's speech at the Democratic convention." While Kroft does ask Obama if he's endorsing Clinton early for 2016, Schieffer strongly hints that we won't get a straight answer out of the president this early in the game.
Regardless, this double, "all smiles" appearance is sure to fan the already healthy flames of Clinton 2016 speculation. "There are not a lot of people in the world who go through what they do," one Clinton aide told CNN. "For good or bad, [they've] been put together." Only time will tell if they're still "together" four years from now, when it might be Clinton's name on the campaign posters.