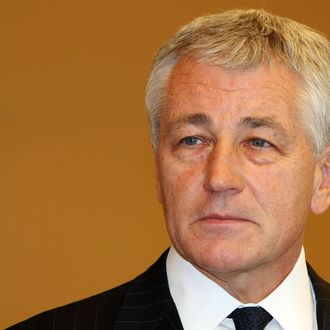 US Senator Chuck Hagel waits for his meeting with Japanese Prime Minister Taro Aso in Tokyo on October 16, 2008. Senator Hagel is here on a three-day visit.
Photo: Junko Kimura/AFP/Getty Images
Chuck Hagel, Obama's nominee for secretary of Defense, has already been called a homophobe and a foe to Israel, and now some have found another fault with the president's recent picks:  They're all white men. With the recent nominations of John Kerry for secretary of State and John Brennan for director of the CIA, as well as a short list for Treasury secretary that doesn't appear to include any women, the Washington Post notes that Obama may wind up with a group that's less diverse than the Cabinet in his first term, or even George W. Bush's Cabinet. When questioned about the increasingly homogenous national security team, White House press secretary Jay Carney said the president "insists on diversity on the lists that he considers for the job" but "in the end he'll make the choice that he believes is best for the United States." Apparently he resisted the urge to point out that Obama's attempt to nominate another woman to replace Hillary Clinton didn't go over too well.