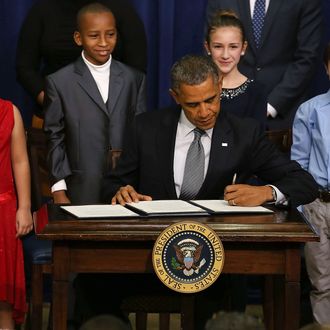 Photo: Mark Wilson/Getty Images
After President Obama detailed his gun-control proposals yesterday, there were dueling, predictable reactions: Those calling for gun control after repeated mass killings, like our own Mayor Bloomberg, praised the president for finally taking a stand, while gun advocates wailed, as they have forever, about the tears of our founders and disregard for the Second Amendment. The latter group pointed incorrectly to the president's 23 "executive orders" (they were "actions," a far more amorphous term) as a sneaky way to avoid the legislative process as if guns had been outlawed immediately. As it turns out, the White House has a long way to go, and a still skeptical Congress to convince, before anything actually gets done.
The careful ambivalence of our nation's lawmakers was summed up by House Speaker John Boehner, whose spokesman immediately delivered a noncommittal statement: "House committees of jurisdiction will review these recommendations. And if the Senate passes a bill, we will also take a look at that."
Among Obama's 23 actions were a few bits that addressed law-enforcement and mental-health concerns, but when it comes to guns, he needs legislation. The Wall Street Journal reports that "prospects may be highest in the Democratic-controlled Senate for a measure to require background checks for all gun buyers, not only for those buying from federally licensed dealers, as is now the law." But Obama's other two main proposals that address firearms directly — the banning of assault weapons and the limiting of high-capacity magazines, like the ones used in Aurora and Newtown — "face a tougher path in the Senate." Never mind the House.
Obama has no illusions. As such, the White House has made universal background checks its priority, with a senior administration official telling the Journal it's the "single most important thing we can do." And the one with the most support: 92 percent of Americans support universal background checks, including 89 percent of Republicans and even 85 percent of NRA households, according to a new CBS/New York Times poll. 
"If you look at the combination of likelihood of passage and effectiveness of curbing gun crime, universal background checks is at the sweet spot," Senator Chuck Schumer admitted. Republicans like Tom Coburn of Oklahoma said he was "open to considering" the checks, while Kelly Ayote said she is "willing to listen."
That's where the consensus ends. Democrats in gun-happy states like Arkansas, Montana, and Alaska (some of whom are up for reelection next year), are being very careful. Senator Max Baucus of Montana said in a statement yesterday that "before passing new laws, we need a thoughtful debate that respects responsible, law-abiding gun owners in Montana instead of a one-size-fits-all directive from Washington."
And then there are the hardliners: NRA president David Keene said they might cooperate in some areas, but that the White House plan sounds like Biden's "lifelong dream to put all his antigun ideas into one big stewpot." Grover Norquist sounded downright cocky: "We've been through this before," he said. "People who care about the Second Amendment know where people are on guns. It's not a vote-moving issue on the left."
"Our founding fathers were very concerned about us having separation of powers. They didn't want to let the president become a king," Rand Paul said on Fox News, where he proposed a bill to erase Obama's actions. "In this bill, we will nullify anything the president does that smacks of legislation," he explained, ignoring the fact that Obama did no such thing.
"I'm afraid that President Obama may have this king complex sort of developing," he added. "I think there's a history of this arrogance." If only it were that easy.