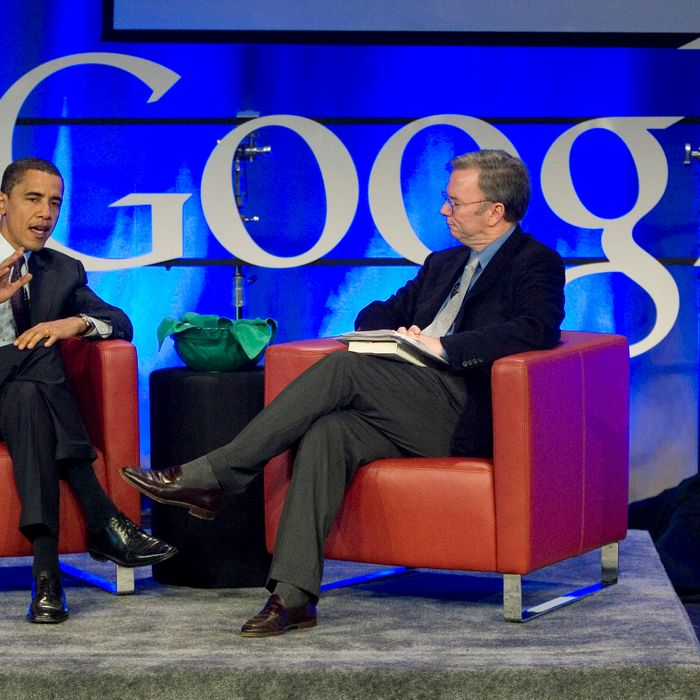 Oddly enough, Obama has never appeared in a photo with Sergey Brin. He has, however, sat in front of his company's logo.
Photo: Kimberly White/Getty Images
During a speech in Las Vegas today on his vision for comprehensive immigration reform, Obama referenced some of the great immigrants in American history and the corporations and innovations they made possible — and not for the first time. In fact, such passages have become a standard part of any address Obama gives on the topic of immigration. Clearly, the man appreciates his immigrants. But, if we're judging by the sheer frequency with which he's been mentioned, there is one immigrant whom Obama prizes above all others: Russian-born Google co-founder Sergey Brin.
On four separate occasions since entering the White House, Obama has held up Brin, explicitly or implicitly, as an immigrant par excellence. On July 1, 2010, Obama called "Sergey Brin's Google" one of the "great ventures" that was made "possible because of immigrants." On May 10, 2011, Obama referred to Google as a "great American company" that "created countless jobs" and was founded by an immigrant. On July 25, 2011, Obama highlighted Google's founder as an example of the "job creators who came here to seek opportunity and now seek to share opportunity." And, finally, earlier today, Obama said that "immigrants helped start businesses like Google," creating "new jobs and new prosperity for our citizens." 
Other immigrants who have received shout-outs include:
3 times: Andrew Grove (or Intel)
3 times: Albert Einstein
2 times: Andrew Carnegie
2 times: Jerry Yang (or Yahoo!)
1 time: I. M. Pei
1 time: Irving Berlin
1 time: Isaac Asimov
1 time: Mike Krieger (or Instagram)
1 time: Pierre Omidyar (or eBay)
Sorry, Hakeem Olajuwon.
*This post originally referred to Emma Lazarus as an immigrant. She was not an immigrant.