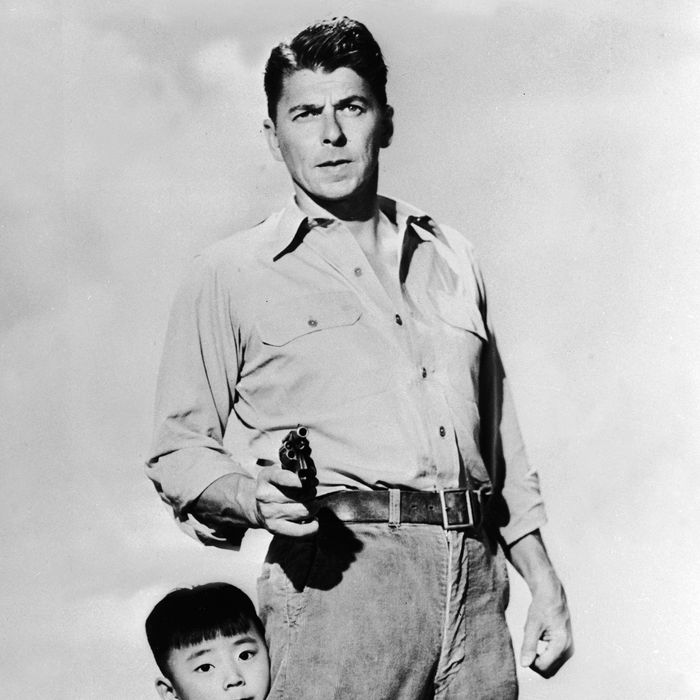 Photo: Paramount Pictures/Courtesy of Getty Images
The latest instance of Barack Obama laughing maniacally while destroying the foundation of this country, according to conservative and otherwise clueless media, concerns the golden god Ronald Reagan. It's an old rumor, brought back to life by the Washington Times' (unedited) Communities section: "Reagan's home could become a parking lot for Obama's library" quickly became "Reagan's Childhood Home To Be Bulldozed For Obama Presidential Library" at Fox Nation — along with Mediaite, the Daily Mail, and Newsmax. This morning, the pseudo-story made its way to Fox & Friends. Believe it or not, it's not quite like that.
After a deep breath, Media Matters explains:
The "childhood home" is an apartment Reagan lived in for less than a year as a young child, and its planned demolition is part of an expansion by the University of Chicago that has nothing to do with President Obama's presidential library. Obama hasn't chosen which state his presidential library will eventually be in, let alone where people will need to park for it. […]

Attempts to preserve the building as a historic landmark were rejected by the Commission on Chicago Landmarks because it "is not associated with Mr. Reagan during his active and productive years."
Still, last night, Press Secretary Jay Carney was forced to respond on Twitter: "To those chasing the @mailonline 'scoop' about alleged Obama library parking lot - stand down. The report is false. Shocking, I know."
But we're going to go ahead and imagine a bunch of Fox News personalities camped out on the premises, refusing to move, and singing "Big Yellow Taxi," regardless.