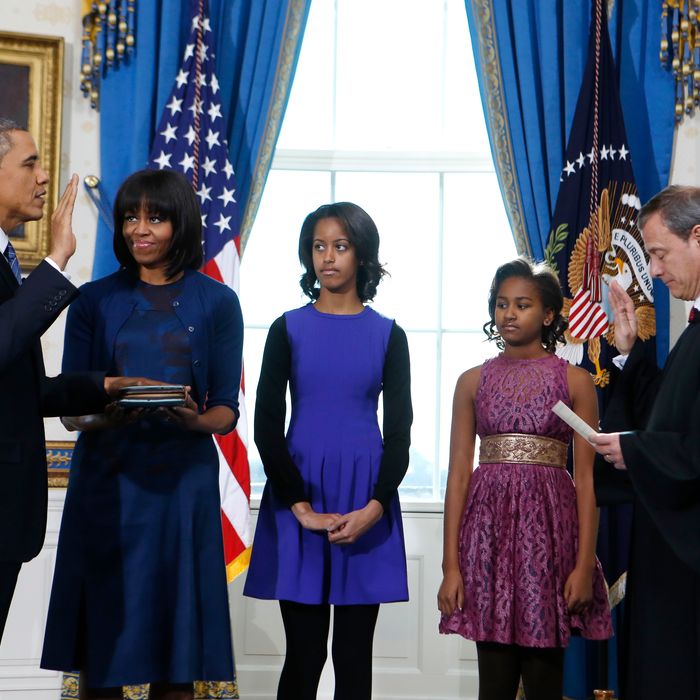 Photo: Pool/2013 Getty Images
Just minutes before noon, in the Blue Room of the White House, Chief Justice John Roberts administered the 35-word oath of office to President Barack Obama, who promptly turned around and hugged his family. "I'm so happy!" daughter Malia said. "Good job, Daddy," added Sasha. To which the nation's Father-in-Chief had just one thing to say to his girls: "I did it!" The private ceremony, which marks the official start of Obama's second term, was held practically at the last possible minute, legally speaking, since by law the president must be sworn in before noon on January 20 following the election. All reports indicate that Roberts did his job flawlessly this time, unlike in 2009 when he famously flubbed his lines — though it looks like an oath card was on hand to avert disaster.
Like Vice-President Joe Biden, who was sworn in by Associate Justice Sonia Sotomayor earlier this morning, Obama chose to use a Bible with sentimental family value: It was given to Michelle Obama's mother by her father back in 1958. Obama and Biden are both due to take part in a ceremonial swearing-in tomorrow on the Capitol steps, an event sure to feature a lot more pomp and circumstance (and A-list singers) than today's proceedings.
This post has been updated to include Malia and Sasha Obama's adorable congratulations.